Royal Navy's Pete Reed going for Olympic gold
Team GB rower Lieutenant Pete Reed is hoping to build on his Olympic gold from Beijing with a memorable win at home. Report by Lorraine McBride.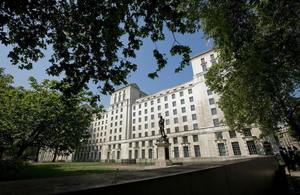 Do you mind if we sit down?" asks Lt Reed, glancing at his chunky sports watch.
"I need to be quick because I'm cold and hungry."
He's not being brusque, just keen to conserve energy for another gruelling rowing session at Caversham Lakes, near Reading.
Lt Reed is the 31-year-old Royal Naval officer who won gold at the Beijing Olympics four years ago in the men's coxless four event.
Now he will be competing in his second Olympics; defending his medal alongside Alex Gregory, Andrew Triggs Hodge and Tom James. He insists anything less than gold would be a disaster:
It would be a nightmare to get a silver medal or less, so we just need to focus on being as good as we possibly can be, learning all our lessons over the last few years.
To become an Olympic gold medallist requires an uncommonly dedicated talent and mindset, and Lt Reed is convinced that officer training at the Britannia Royal Naval College, Dartmouth, shaped him into the Olympian he is today:
At Dartmouth, I learned about teamwork, determination, dedication, and enthusiasm - and those qualities are exactly what I'm using every day to get the job done," he says.

I wasn't the same guy before I joined the Navy that I became after training and I don't think I could have done this sport for as long as I have if I hadn't gone through Dartmouth.
Lt Reed joined the Navy for many reasons, but mainly the military lifestyle:
I didn't want an office job - I wanted to be part of something that mattered more. That pointed me in the direction of the Royal Navy.
He was also drawn by the opportunity to train with the world's best, and he won a Naval bursary before returning to the Fleet and serving as one of its youngest officers, training alongside wiser, older heads.
Taking part in the 2012 Olympics at Eton Dorney "is an opportunity to be part of history, to realise every sportsman's dream," he says, adding:
To win gold in a home Olympics would be spectacular.
And hopes for the men's coxless four are high:
The expectation gives us the kick we need to deliver," Lt Reed says.

There'll be a lot of pressure. But that's what you want when you're going into battle.
He has little doubt that military support has helped him to reach the pinnacle of sport, and knows that his Navy payslip has provided a cushion that other, impoverished athletes don't enjoy:
It keeps me living a lifestyle that isn't extravagant, but a little bit ahead of some of my peers," he says.
It means I can eat the right food, get the right rest and have the right quality of living, so that I can train harder than I would otherwise. And that has kept me at the top for a long time.

And having the Navy behind me, and their training, is absolutely synonymous with the personality and characteristics that you need to be a top rower.

I can't quite find the words at the moment to describe how supportive the Navy has been. I wouldn't be rowing if it wasn't for the Navy. To have the Senior Service backing you when you're training each day, and to be as proud as I am to be wearing the white ensign on my kit, spurs me on.
It's something that will be with me as I cross the finishing line.
This article is taken from the July 2012 edition of Defence Focus - the magazine for everyone in Defence.
Published 26 July 2012