Royal Navy wrecks discovered in the Baltic
The previously unlocated wrecks of light cruiser HMS Cassandra and Arabis-Class minesweeper HMS Gentian have been discovered off the coast of Estonia along with the missing bow section of minesweeper HMS Myrtle.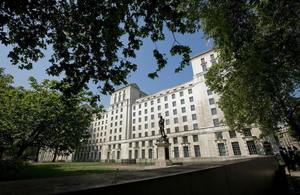 The 4,160-tonne HMS Cassandra was sunk on the night of 5-6 December 1918 off the west coast of Estonia, while the 1,250-tonne HMS Gentian was lost to a mine on 16 July 1919 as was the Azalea-Class minesweeper HMS Myrtle.
The ships were part of a large squadron deployed in the period from November 1918 to February 1920 under Rear Admiral Sir Edwyn Alexander-Sinclair, and latterly Rear Admiral Sir Walter Cowan, in order to sustain the newly-created state of Estonia in the face of Bolshevik attacks.
There were some lively sea actions, including raids into Bolshevik ports - one resulting in the award of a Victoria Cross to one Lieutenant Augustus Agar, but there were also some significant losses, mostly as a result of German-laid mines.
In addition to the above ships, losses included two V Class destroyers and several coastal gun and torpedo boats, while the submarine L55 was lost with all hands.
Total British losses in the campaign were 107 Royal Navy personnel and five from the Royal Air Force.
The wrecks were located by the ex-Royal Navy minehunter HMS Bridport, now Estonian Navy ship Ugandi commanded by Lieutenant Commander Villu Klesmann and his sonar team.
The operation completes a process started by divers who found parts of the Myrtle in 1937 and a later team which attached a memorial plaque to the ship's sheared-off stern ten years ago.
Discovery teams were aided by the accuracy of Royal Navy navigation in 1919, when the two smaller ships sank after hitting mines.
The coordinates of the site made during the rescue of Gentian's and Myrtle's crews by Rear Admiral Alexander-Sinclair were surprisingly accurate, considering methods at the time.
The Cassandra was sunk with the loss of 11 of her 400-strong crew, and the bodies of three crew of the Myrtle and the Gentian are buried in the Estonian capital, Tallinn, but not all were recovered.
The wrecks belong legally to the British Government and are now likely to be given official protection as war graves.
Published 24 August 2010