Royal Navy wows the crowds at Bournemouth Air Festival
Crowds flocked to Bournemouth beach last weekend to witness the aerial acrobatics and daredevil stunts put on by the Royal Navy at the four-day air festival on the south coast.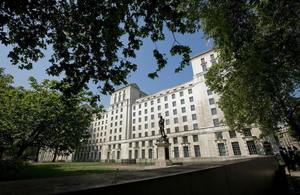 An initial downpour of driving rain failed to deter keen visitors to the launch event hosted by Bournemouth Borough Council at the Key West restaurant on Bournemouth Pier.
In a scenario reminiscent of a Bond movie, a vital message from a young cadet was intercepted in a staged fight between members of the Royal Marines Commando Display Team in an attempt to stop the message reaching the Naval Regional Commander, Commodore Jamie Miller.
Marine Sam Pearson, aged 21, personal bodyguard to the Commodore, repelled and disarmed three attackers carrying knives, coshes and a baseball bat in dramatic fashion, before the assembled media covering the launch.
In his speech, Commodore Miller said:
This year, the Royal Navy has provided a range of attractions to give the public an understanding of Navy operations, particularly during a period when so many Armed Forces are deployed overseas.
The mine hunter HMS Bangor and the amphibious ship RFA Largs Bay, anchored in the bay, will provide the base for more than 100 Royal Marines, Royal Naval and Royal Marines Reserves to stage an amphibious assault on the beach.
As the clouds cleared, the launch continued with a flypast by the Royal Navy Helicopter Display Team, the Black Cats, who provided an incredible start to Bournemouth's third annual air festival. Lieutenant Becky Frater was the first female Black Cats team leader this year.
The Commando Display Team manned a popular stand on the seafront with a wide range of equipment on display for the public to handle and an assault wall to entertain the children.
Recruiting stands from the Royal Navy, Royal Marines, Royal Fleet Auxiliary and Sea Cadets were also present for all four days.
Published 27 August 2010