Royal Navy warships work to disrupt piracy
Two Royal Navy warships are continuing their operations in the Arabian Sea and Horn of Africa to deter piracy and build relations with nations in their respective regions.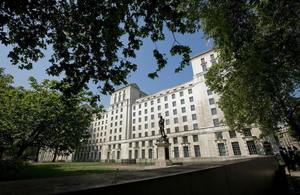 HMS Cornwall is operating in the Arabian Sea and recently tracked and boarded a pirate skiff believed to have been involved in attacks on merchant vessels.
HMS Cornwall is currently the command ship for Combined Task Force 151, the counter-piracy mission of the Combined Maritime Forces - a 25-nation coalition committed to maritime security throughout the Middle East, and was tasked to investigate when the attack on the MV Leopard was reported.
The skiff had four people on board, one of whom was injured and was then treated by the warship's medical team.
Once a full search by the ship's boarding team had verified the suspect pirates had no means of conducting piracy with anything remaining on the skiff, they were left to continue back to the coast.
While conducting the boarding operation, HMS Cornwall's presence in this area disrupted two further potential attacks. The mere presence of a coalition warship nearby was enough to deter the suspected pirates and also reassure the captains of the would-be target merchant vessels.
Speaking last month, HMS Cornwall's Commanding Officer, Commander David Wilkinson, said:
Today's events prove what the presence of a single warship can achieve. We can be confident one particular pirate skiff cannot attack any other shipping and that a further two potential pirate attacks were disrupted by HMS Cornwall's presence.
Meanwhile, HMS Richmond, currently on a seven-month maritime security and counter-piracy deployment, has visited Djibouti, on the Horn of Africa, as part of her mission.
The Type 23 frigate is supporting EU and UK commitments in the Gulf of Aden and is the UK's contribution to the European Union Naval Force (EUNAVFOR).
The Task Force's main role is to deter and disrupt pirate activities off the Horn of Africa, although HMS Richmond will also continue to build relations in the area by making port visits and inviting dignitaries on board.
Djibouti neighbours Ethiopia, Eritrea and Somalia and has a strong military presence from both France and the US. While the ship was alongside, her Commanding Officer, Captain Mike Walliker, hosted a number of visitors including the Honorary British Consul and local government representatives.
Her ship's company also took on the momentous challenge of tackling the French Foreign Legion at both football and rugby - losing both games but putting up a good fight along the way.
Captain Walliker said:
I was both delighted and honoured to bring HMS Richmond into Djibouti as part of a wider deployment into the region.

My ship's company, many of whom have never visited Djibouti before, greatly enjoyed their time alongside. We are all very much focused on our role within EUNAVFOR and the contribution we will make to the maintenance of maritime security in this important region.
As part of her deployment HMS Richmond will also help to secure the delivery of aid to Somalia under the World Food Programme and deploy for a time to the Far East in support of UK military commitments such as the Five Power Defence Arrangements. This will include diplomatic visits to ports in Indonesia, Brunei and Singapore.
Published 7 February 2011