Royal Navy warships return home from major US exercise
The ships were the latest of the task force to return to the UK following the return of HMS Sutherland and HMS Albion to Devonport last week…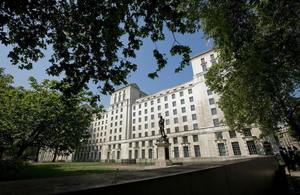 The ships were the latest of the task force to return to the UK following the return of HMS Sutherland and HMS Albion to Devonport last week. Royal Auxiliary Fleet (RFA) ship Fort George returns to Crombie today.
Exercise Auriga 2010 saw the sailors not only take part in large scale multinational exercises but also present the aircraft carrier to the Queen at the Canadian Navy's Centennial International Fleet Review and host First Sea Lord Admiral Sir Mark Stanhope and Prime Minister David Cameron.
Commanding Officer of HMS Ark Royal, Captain John Clink, said:
Ark Royal, as the Carrier Strike Group flagship, has had a successful deployment and it is thanks to the hard work of the ship's company that we have achieved so much.

Flying from the sea is complex, exciting and takes a great deal of teamwork and effort.
I think we can be justifiably proud of a job well done as we strive to prove and improve our capabilities. All very fitting for a ship which celebrates her silver jubilee this year.
Exercise Auriga 2010 was designed to demonstrate the UK's ability to deploy, operate and sustain a task group out of area for a prolonged period. The deployment focused on a series of exercises hosted by the United States and Canadian navies with the principal aim of enhancing the task group's operational capability.
Led by Commodore Simon Ancona on HMS Ark Royal, the Carrier Strike Task Group had around 2,000 UK, US and French personnel on board HMS Sutherland, HMS Liverpool, RFA Fort George, USS Barry and the French submarine FS Perle, as well as Harrier GR9 jets and Merlin, Sea King and Lynx helicopters.
Commodore Ancona said:
The Royal Navy is generating a sustainable small scale task group contingency capability in line with MOD policy.

The east coast of the United States is literally tailor-made to support our needs - the exercise areas, assets and ranges form a sort of carrier 'gymnasium' for testing strike and amphibious capabilities.

The Auriga deployment was designed to take full advantage for both our Carrier Strike and Amphibious Task Group capability development.

It's all about interoperability, flexibility and sustainability, or, put simply, work with allies to do whatever is needed for as long as it takes, at sea and from the sea.
As well as Ark Royal being the command and control platform for the Carrier Strike Task Group, the ship also embarked 14 United States Marine Corps AV-8B Harrier II jets, and became the task group lead for the Royal Navy's Amphibious Task Group.
This included HMS Albion, HMS Ocean and RFA Largs Bay on a four-week exercise with USS Kearsarge.
Fellow Portsmouth-based warship HMS Liverpool was tasked to provide air defence for Ark Royal and the Carrier Strike Task Group which has helped her develop new procedures that will complement the introduction of the new aircraft carriers.
HMS Liverpool's Commanding Officer, Commander Ollie Hutchinson, said:
People who join the Royal Navy do so for the promise of going to sea, seeing the world and experiencing a varied and unique career. HMS Liverpool has delivered on that promise.

While the last four months have been extremely challenging, they have also been rewarding and enjoyable for everybody on board, but there is no substitute for coming home.
Published 16 August 2010