Royal Navy trains refurbished Iraqi ship's crew
Now repair work on the Iraqi Navy Ship (INS) Nasser has come to an end, Royal Navy personnel have been training the ship's crew so they can take her out to defend and patrol Iraq's territorial waters.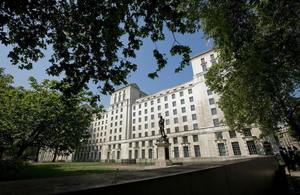 Around 100 Royal Naval personnel are currently based at the main Iraqi naval base in the southern port of Umm Qasr, working alongside US colleagues to train and mentor the Iraqi Navy as part of the UK-led Iraqi Training and Advisory Mission - Navy (ITAM-N).
A team of eight Royal Navy and US personnel from this mission have been running INS Nasser's crew through a series of training evolutions covering seamanship, navigation, weapons-handling, anchoring, firefighting, damage control and engineering casualty control.
INS Nasser has sat alongside since being 'side-swiped' by a drifting freighter last January while berthed in Umm Qasr. She is one of four Italian-built Saettia Class patrol vessels operated by the Iraqi Navy in the Gulf.
Now looking her best after significant repair work in a local shipyard, she has been brought back home and is just waiting for her crew to be trained to a standard where they can operate the ship safely and take her out to defend and patrol Iraq's territorial waters.
The training team is led by Lieutenant Lars Lone of the United States Navy. He said:
The training was intensive and we kept them very busy. They worked hard and the instructors from the Iraqi Training and Advisory Mission in Umm Qasr were impressed with their efforts.
Part of the seamanship training involved the launch and recovery of the patrol ship's rigid-hulled inflatable boat via the ship's stern ramp.
Led by the Royal Navy's Petty Officer Emma Mitchell, the Iraqi crew successfully completed several serials, culminating in a demanding launch and recovery at sea. Petty Officer Mitchell said:
It was great to see such a unique way to launch and recover a boat; I am sure that our navy could learn a lot from this.
Iraq's ability to rebuild its infrastructure and services after decades of neglect is heavily dependent on income from oil exports. And so it is vital that the Iraqi Navy quickly develops its capacity to protect their own territorial waters and offshore oil platforms from which 80 per cent of their oil is exported.
At the moment Royal Navy ships continue to protect Iraq's offshore oil platforms while Royal Navy and US personnel bring the Iraqi Navy up to speed via the ITAM-N.
Published 19 August 2010