News story
Royal Navy trains off coast of Oman
The Royal Navy's Response Force Task Group has successfully completed a 6-day exercise with the Royal Omani Armed Forces.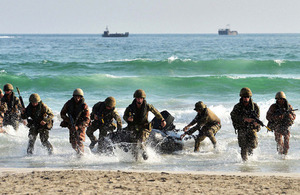 The maritime exercise, part of Cougar 13, tested the full integration of the Royal Navy and Royal Navy of Oman using conventional maritime warfare serials. And Royal Marines from 42 Commando, as the Lead Commando Group, carried out amphibious training with the Oman Coastal Regiment.
Exercise Omani Cougar concluded with a large maritime and amphibious demonstration to high profile service chiefs from both countries, including General Sir Richard Barrons (Commander Joint Forces Command) and Lieutenant General Simon Mayall (Defence Senior Advisor to the Middle East), as well as His Excellency Mr Jamie Bowden (Her Majesty's Ambassador to Oman).
Lieutenant General Al Nabhani (Chief of Staff of the Sultan's Armed Forces) and Rear Admiral Al Raisi (Commander of the Royal Navy of Oman) were also present to witness the culmination of the hard work of their service personnel.
Five Royal Navy of Oman warships joined HMS Bulwark, HMS Illustrious and Royal Fleet Auxiliary vessel Mounts Bay for the exercise which was led by the Royal Navy of Oman Director of Operations from on board HMS Bulwark.
As part of Omani Cougar, personnel from 42 Commando Royal Marines also trained with Omani forces, launching a dawn raid on a mock village.
Juliet Company staged a ground assault on 2 targets using live firing and tactical manoeuvres. Around 120 men fought their way through 8 kilometres of desert terrain as temperatures edged towards 30°C.
Captain Chris Stevens, second-in-command of Juliet Company, said:
Working alongside the Omani Armed Forces in the mountainous and arid desert environment has been fantastic, but extremely challenging under such austere conditions.

We have also had the opportunity to practise live firing whilst integrated with the Viking vehicles of the amphibious task group.

It has added to the realism and will prepare us for any likely future taskings as part of the Response Force Task Group (RFTG).
The RFTG, which left UK waters in August, has already completed exercises in the Mediterranean, Red Sea and the Gulf.
The Cougar 13 deployment involves exercising with partner nations and demonstrates the ability of the UK's Armed Forces to project an effective maritime component anywhere in the world.
The RFTG is the United Kingdom's high readiness maritime force and comprises ships, submarines, aircraft and a landing force of Royal Marines at short notice to act in response to any contingency tasking.
Published 30 October 2013