Royal Navy tests Merlin helicopters
A detachment of Royal Navy aircrew and engineers have spent a week thoroughly testing the Merlin helicopter's sensors and weapons to ensure that aircrew are ready for any operational deployment that they may be tasked with.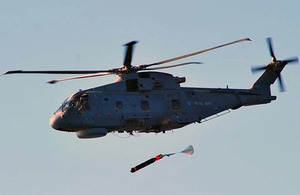 The weapon and sensor trials were carried out at the British Underwater Test and Evaluation Centre situated on Inner Raasay Sound near the Isle of Skye.
The team of 20, led by Lieutenant Commander Iain Macfarlane, make up the Merlin HM Mk1 Operational Evaluation Unit which is part of 824 Naval Air Squadron based at Royal Naval Air Station Culdrose in Helston, Cornwall.
During the week, several trials were conducted by the aircrew using the Merlin's potent suite of sensors and eight advanced Sting Ray Mod 1 torpedoes, which were fired in simulated attacks.
The aircrew and engineers of the Merlin Helicopter Force are one of the mainstays of the UK's anti-submarine warfare capability, and trials such as these ensure that they maintain skills and tactics for now and in the future.
Data from these trials will now be analysed by the Maritime Warfare Centre who will then provide the aircrew with the most up-to-date tactical advice possible.
One of the flight observers, Lieutenant Lauren Hulston, said:
Rigorously testing the Merlin's systems and weapons ensures that the crews are ready for whatever operational tasking we may be given. Trials like this are essential for us to maintain our readiness.
Merlin helicopters are currently deployed across the globe in support of Royal Navy operations and ongoing commitments. The primary role of the Merlin helicopter, the Royal Navy's most modern aircraft, is anti-submarine warfare; however, due to its size, speed and proven technological capability, this versatile aircraft is also used in maritime security operations.
The helicopter is large enough to carry Royal Marines for sniper operations and boarding via fast roping, both of which are vital to counter the threat of pirates, and it is fitted with heavy duty machine guns and thermal imaging equipment.
Published 30 September 2010