Royal Navy team keep helicopters going in Afghanistan
A specialist Navy team has clocked up six years fixing damage to all British military helicopters in Afghanistan.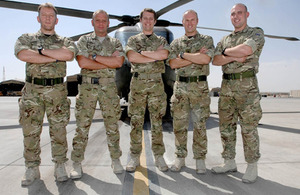 The team ensures that RAF and Army Air Corps helicopters as well as those of the Royal Navy's Fleet Air Arm are kept in working order for their vital mission.
A five-strong team from 1710 Naval Air Squadron - who were known as the Mobile Aircraft Support Unit, or MASU, when they began in Helmand back in 2006 - are based at Camp Bastion, the hub of the British effort in the country.
It's not the task of the 1710 detachment to look after helicopters on a day-to-day basis. But they are called upon to carry out complex repairs to whirlybirds damaged by emergency/rough landings and serious wear-and-tear or, to a lesser degree, enemy fire.
That means that although the team is based at Bastion it's trained and called upon to work 'outside the wire' with its equipment, carrying out a range of repairs from rapid battle damage to allow a mission to be completed, to a full repair which will last the lifetime of an aircraft.
The repair detachment currently comprises Lieutenant Andy Betts, Chief Petty Officers Tony Fisher and Phil Roberts, and Petty Officers Simon Whittell and Liam Sutherland; all of whom can draw on a wealth of experience in the aircraft maintenance world.
CPO Fisher and PO Whittell previously maintained Naval Strike Wing when Harriers deployed to Kandahar; with the demise of the fabled jump jets, they retrained to look after helicopters:
Although we've been to theatre before, this time our role is very different," explained CPO Fisher.
Where before we were busy maintaining aircraft as part of a large squadron, this time around we're part of a small team and have to remain very reactive to all forms of damage across the three Services.
The aircraft the team works on include Army Apache gunships and battlefield Lynx, Fleet Air Arm 'bagger' Sea Kings which provide eyes in the skies for allied ground forces, and RAF Chinooks and Merlins.
The latter might require a state-of-the-art composite repair, while a Sea King can be fixed with a more traditional sheet metal repair:
Since coming to theatre, we've carried out repairs to some aircraft we hardly ever see in the UK," said PO Sutherland.
I'm looking forward to using my knowledge to help less experienced members of the squadron get ready for their Afghanistan tours - after some post-operational leave, of course.
Lt Betts said that squadron personnel had noticed definite changes during the six years the 1710 repair detachment and its forebear have been in Afghanistan:
We can see that in the frequency and type of damage we are being asked to repair," he explained.
A few years ago it would have been mainly damage due to enemy action; the majority of work we are now seeing is down to aircraft fatigue and the difficulties of operating in the dusty Afghan environment.
His parent unit acts as the 'fourth emergency service' for all the UK Armed Forces rotary-wing aircraft around the globe, while the RAF provides an identical service for fixed-wing aircraft, irrespective of whether they belong to the Army, Air Force or Navy.
Published 3 September 2012