Royal Navy staff help Afghan dogs
Staff at HMS Raleigh's Triumph Squadron have recently donated money to help care for stray dogs and other animals in Afghanistan.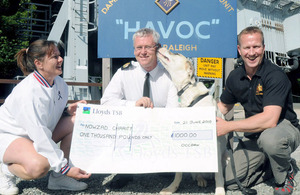 The squadron, which provides firefighting, damage control and first aid training to new naval recruits, has donated £1,000 to the Nowzad Dogs charity.
Staff raised the money by giving the new recruits an opportunity to buy a photo as a memento of their training.
Nowzad Dogs was set up by former Royal Marines Colour Sergeant 'Penny' Farthing and his wife Lisa, a Royal Navy Physical Training Instructor, as a result of Penny's experience of rescuing dogs while serving in Afghanistan in 2006.
Since then Nowzad Dogs has rescued around 50 stray animals and found new homes for them in the UK, the USA, Canada and Holland.
Penny and Lisa, who has previously served at HMS Raleigh, now care for three of the dogs themselves, Nowzad, Tali and Patch.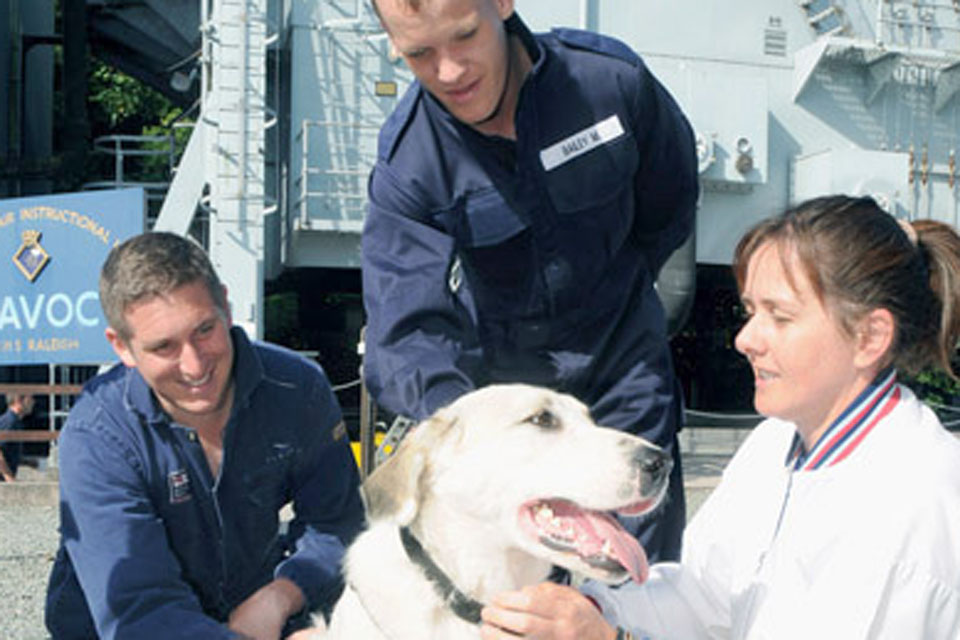 Penny Farthing said:
As a charity we are extremely grateful to all at HMS Raleigh for raising this money which will be used to train Afghans to become vets.
They will be sent to India for their training and once qualified they will be able to go back and care for the farm animals and livestock which the people of Afghanistan are hugely dependent upon.
We also hope that they can start a programme of neutering amongst the stray dogs. Rabies is a huge problem in Afghanistan. The children annoy the dogs, then get bitten, and from that develop rabies.
I left the Royal Marines last year, having completed my time, and this is my way of continuing to give practical support to the people of Afghanistan.
Soon after arriving in Afghanistan in 2006, Penny realised that it was not only the local people who needed help. Arriving in the town of Now Zad he broke up a dog-fight outside the Marines' compound and was soon befriended by one of the fighting dogs, who he named 'Nowzad'.
Penny and his fellow Marines quickly found themselves offering refuge to five dogs and two litters of pups. With their tour of duty coming to an end, the Marines set themselves the mammoth task of finding new homes for their canine friends.
Lisa Farthing managed to track down an animal rescue centre in northern Afghanistan and the Marines used their resourcefulness to organise local drivers to transport the dogs to the centre, a journey which lasted several days.
The Marines anxiously waited for news of whether the dogs had arrived safely at the centre and eventually a call from home told them that three of the dogs and 13 out of the 14 puppies were safe.
Sadly, two of the dogs escaped when a car door was left open during the journey and one of the puppies was stolen.
Since then the charity has gone from strength to strength and Tali and Nowzad have even made an appearance at Crufts.
More information about Nowzad Dogs is available online - see Related Links - including details of how to donate.
Published 18 August 2010