Royal Navy safely delivers evacuees from Libya to Malta
Royal Navy frigate HMS Cumberland arrived alongside in Malta in the early hours of this morning, carrying 207 people successfully evacuated from Libya.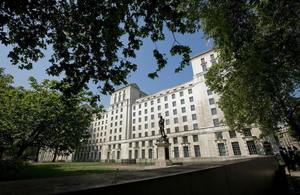 The 69 British nationals and 138 passengers from other nations were evacuated from Libya's second city, Benghazi, on Thursday 24 February 2011.
Arriving at Malta's Grand Harbour, passenger Phil Douglas was visibly relieved at being brought to safety.
He said:
Everyone looked after us absolutely superbly, the food was very, very good, better than we get in the desert, so we were very happy. It was a very tiring journey … but under the circumstances it was fantastic.
Throughout the voyage, the crew of HMS Cumberland provided food, water and medical attention for the men, women and children rescued from Benghazi.
Another passenger, Richard Weeks, told of his terrifying ordeal when, during the unrest in Libya, he was robbed at knifepoint before managing to escape:
We were faced with looters rushing into the property where we were holed up and there was nothing we could do," he said. "It had been getting more risky for the ten days before and there was no prospect of it easing.

They were armed with knives and knew they could take what they wanted, so it was better to let them get on with it.

It was a very sad and terrifying situation. I've lived between Cardiff and Benghazi for 20 years and the hope is that the country can return to peace soon.
HMS Cumberland encountered heavy seas during the Mediterranean crossing which meant her arrival into Malta's Grand Harbour was delayed.
Mr Weeks added:
The Royal Navy has really impressed me during this journey. Space and resources were obviously limited but people were kind and considerate and we were kept warm and fed.
Poor sea conditions during the crossing to Malta meant several passengers suffered from seasickness.
The ship's Commanding Officer, Captain Steve Dainton, said:
The ship's company have responded magnificently. Ten days ago we were off the coast of Somalia conducting counter-piracy operations.

I think it gives an indication of the flexibility and the versatility of a British warship and indeed of the ship's company onboard.
The Type 22 frigate has been on operations in the Gulf for the last four months, where her duties have included helping to protect the Iraqi oil platforms that account for nearly 90 per cent of Iraq's national income.
HMS Cumberland was due to return today to stand ready off the coast of Libya to carry out further evacuations.
Published 26 February 2011