Royal Navy rower takes Olympic gold
Olympic rower and Royal Navy officer Lieutenant Pete Reed has helped Team GB to a historic fourth gold medal in the men's coxless fours.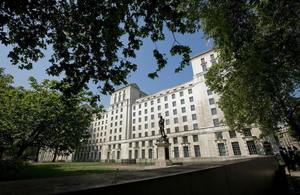 A second Olympic gold for Lt Reed, Saturday's win was the British team's fourth gold in the event over four consecutive Games; a feat previously accomplished just twice in the history of the men's coxless fours - by Britain between 1908 and 1932, and by East Germany between 1968 and 1980.
Lieutenant Reed, aged 30, and teammates Andy Triggs Hodge, Alex Gregory and Tom James placed themselves firmly in the record books following a nail-biting final which saw them pip the favourites - the Australian crew - at the post.
The four athletes have ensured the Olympic gold medal for the coxless fours stays with the British after Steve Redgrave picked up the gold medal in Sydney, Matthew Pinsent took gold in Athens in 2004, and Andy Triggs Hodge and Lt Reed picked up the baton in 2008 with a win in Beijing:
I am absolutely delighted. It was a phenomenal effort - we really gave it our all and we are so pleased that all our hard work and training has paid off," said Lt Reed.
It is a privilege and an honour to have won the gold medal for Britain.
Lt Reed joined the Royal Navy following officer training in 1999 as a Marine Engineering Officer, and is now an Engineering Training Manager.
Soon after developing a passion for rowing, in 2003 Lt Reed represented Great Britain at the Under-23 Championships in the coxless fours, and worked his way up to Olympic standard in just a few years:
Who could have ever imagined that we would be right at the peak of our sport, at the right age, the right level of experience, in a sport that traditionally does very well at a home Olympics. It's just the sort of thing that sportsmen's fantasies are made of," said Lt Reed.
Published 6 August 2012