Royal Navy patrol vessels gather for squadron exercise
The ships of 1st Patrol Boat Squadron left Portsmouth Naval Base in tight formation at 1000hrs, and, once in open water, started a series of…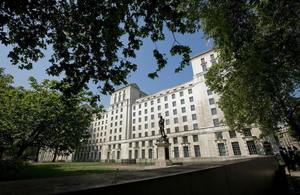 The ships of 1st Patrol Boat Squadron left Portsmouth Naval Base in tight formation at 1000hrs, and, once in open water, started a series of highly complex manoeuvres, sailing in tight groupings, requiring significant navigation and command skills - especially considering the number of vessels involved.
At the head of the formation was the First Sea Lord, Admiral Sir Mark Stanhope, who sailed past and reviewed each of the ships and crews in the formation.
The P2000 class of ships are unique to the Royal Navy in that they are manned by university students but commanded by a Royal Navy officer, usually a lieutenant.
Each of the 14 ships in the Squadron is assigned to a university that has a University Royal Naval Unit (URNU) where undergraduates can become part of the ship's company for their time at university.
As patrol vessels, the P2000s sail around the UK and European waters protecting the integrity of UK waters while allowing the student crews to develop navigation, leadership and motivation skills, and command attributes.
Commander David Wilson, Commanding Officer 1st Patrol Boat Squadron, said:
It is an extremely important event for all the patrol boats today - this is a very rare opportunity for them to all work together and to show off their skills.

It is a very solid grounding for these students to learn command and leadership skills from the Royal Navy, regardless of whether they join up afterwards or not - we hope we are contributing to them becoming leaders of the future.
There are currently 14 University Royal Naval Units supporting the UK's leading universities in England, Wales and Scotland.
Published 19 April 2011