Royal Navy officer rises up the Pink List
A Royal Navy officer has been voted the 51st most influential figure in the UK gay and lesbian community, eclipsing such household figures as Lord Mandelson and Gok Wan.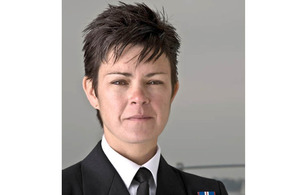 Lieutenant Commander Mandy McBain has risen up the list, published in the Independent on Sunday, from 71st in last year's standings.
Prime Minister David Cameron recently declared 'The Pink List 2010' to be both 'a celebration and a challenge'.
He also said that the list 'acts as a reminder that we must go further, as long as there are people out there feeling marginalised or threatened, then we must continue to tackle prejudice.'
Voting was by a panel of influential gay and lesbian personalities which included the BBC sports commentator, Clare Balding, former Culture Secretary, Ben Bradshaw, and Stonewall Chief Executive, Ben Summerskill.
Lt Cdr McBain was recognised for the significant impact she has made in influencing attitudes towards inclusion of lesbian, gay, bisexual and transgender (LGBT) personnel in the Naval Service. She is the Chair of the Naval Service LGBT Forum which was established in October 2008 and consists of approximately ten serving Royal Navy and Royal Naval Reserve personnel.
The forum members represent all the strands of LGBT diversity, along with a Warrant Officer who acts as the Critical Advisor/Straight Alliance, and is the first support network for LGBT personnel in the Naval Service.
On hearing of her position in the list, Lt Cdr McBain said:
I could never have imagined that the changes I've seen to include lesbian and gay personnel fully in the Navy could have been made. I feel very privileged to be in a position to be playing a part in taking the changes forward.
Lt Cdr McBain is currently assigned as one of the Naval Service's Equality and Diversity Policy Officers in the Naval Command HQ in Portsmouth. In that role she is part of a small team that develops and implements policy in relation to gender, gender reassignment, race and ethnicity, religion or belief, and sexual orientation.
Often interviewed by the media, Lt Cdr McBain has also spoken at the Stonewall Annual Conference, been a panel member at an InterLaw Diversity Forum event at the Law Society, taken part in Stonewall Youth events, worked with the Albert Kennedy Trust, and was recently a judge for the Women in the City Future Leaders Awards.
Lt Cdr McBain joined the Navy in 1986 as a Writer and went to Britannia Royal Naval College in 1989. She is a Logistics Officer and has had a variety of appointments during her service, including being a member of the Admiralty Interview Board and the spokesperson for European forces in Bosnia.
Published 9 August 2010