Royal Navy medics honoured for work in Helmand
A Royal Navy-led team of military medics and ambulance drivers have been honoured by the Ambulance Service Institute for their efforts in treating victims of mine blasts in Afghanistan.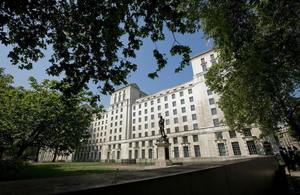 The Ambulance Response Troop (ART) of Close Support Medical Regiment was presented with the Military Award 2011 by the Ambulance Service Institute in recognition of their work over the last six months.
During their recent deployment to Helmand, the six medics and six ambulance drivers worked as two-man teams manning six ambulances 24-hours-a-day, seven-days-a-week, treating and evacuating injured troops, Afghan personnel, civilians and international forces.
As well as blast injuries and complicated trauma, including amputations, the team had to deal with gunshot wounds and also undertake specialist paediatric training to look after local Afghan children.
The ART, made up of Royal Navy medics, Royal Marines bandsmen who work as ambulance drivers, an RAF nurse and a Territorial Army Reservist, were also part of the repatriation ceremonies where they transported soldiers who were killed in action so they could be flown home.
They were given the accolade at the House of Lords as part of a special ceremony to recognise the extreme circumstances under which ambulance crews work.
Commanding Officer of the ART, Surgeon Commander Stuart Collett, said:
I am absolutely delighted that the Ambulance Service Institute has chosen to recognise the ART's efforts in this way. It was a privilege and an honour to see the hard work of the guys and girls rewarded, especially by our civilian colleagues.
It is nice to know that the hard work out in Afghanistan is not going by unnoticed and that the support for our Armed Forces is still going strong.
The ART can be a very psychologically demanding job - yet these were dedicated and determined individuals and it is important they get the recognition they deserve.
Published 21 November 2011