Royal Navy medic receives Military Cross at Buckingham Palace
Despite shrapnel wounds to his leg and face, Medical Assistant (MA) Liam O'Grady ran across open ground while grenades were exploding around…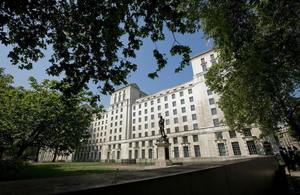 Despite shrapnel wounds to his leg and face, Medical Assistant (MA) Liam O'Grady ran across open ground while grenades were exploding around him to drag his stricken patrol sergeant to safety.
He gave immediate lifesaving treatment to the commander who had severe wounds to his chest and abdomen before going on to stabilise three other wounded colleagues. Only after the commander had been extracted by helicopter and he had helped carry the other casualties 800 metres uphill through hostile territory did MA O'Grady allow his own wounds to be treated.
MA O'Grady is now based on board Plymouth warship HMS Sutherland. He had been in the Royal Navy for just two years when he was sent on his first deployment to Afghanistan and attached to an Army patrol occupying Checkpoint Richka, a tiny compound in the Green Zone of the Upper Gereshk Valley. He has now fully recovered from his injuries.
MA O'Grady took his family, including his wife, to receive his award. He said:
I was very proud to get my award and Prince Charles was very interested in me. He knew all about my citation and why I got the MC. He asked about the casualties. I have kept in touch with them all and the one most seriously injured has only just returned to work. It was a fantastic day and my family are with me.
He has also been chosen to attend the NATO Summit next week in Chicago as part of the ceremonial party. He said:
I am very excited about being part of such a high-powered event in Chicago. It is an honour to take part.

As part of the ceremonial party I am representing the UK, and my Military Cross citation will be read out.
Speaking about his actions in Afghanistan, he said:
We were all really close as there was only ever about 13 of us together at any one time, so you get to know each other really well.

When [we] came under attack from the grenades I was on the radio and immediately shouted to them that we had an emergency. I sprinted out to get my first aid pack when I saw that the patrol sergeant was lying on the ground and in real trouble.

He was struggling to breathe and there was a significant amount of blood loss. The shrapnel had penetrated his chest and lung and I knew I had to try and get some fluids and morphine into him - it's to his credit that he was a strong man, he was really fighting for his life.

I knew my leg was bleeding and it hurt to put any weight on it, but it was my job to help these guys and I think that instinct just took over.
According to his citation the medic displayed 'exemplary gallantry, selflessness and devotion to duty'. His 'instinctive bravery and total disregard for his own safety, followed by exceptional handling of a mass-casualty situation as a lone medic while wounded and under threat of further attack' undoubtedly saved the life of his patrol sergeant.
While the patrol's second-in-command organised the remainder of the team to fire back at the insurgents, MA O'Grady attended to the wounded with 'coolness and professionalism despite the risk of further injury to himself'.
As well as the patrol sergeant MA O'Grady attended to three other badly wounded men, two with severe injuries to their legs and one with shrapnel wounds to his face.
Following the helicopter evacuation of the sergeant, MA O'Grady helped move the remaining casualties 800 metres uphill at night over difficult terrain with the risk of further attack or an IED blast.
After he had handed the casualties over to the company medical post he received medical treatment for wounds to his leg before insisting that he go back to serve at Richka:
I had physio and hospital treatment for about three weeks in the UK and then went back to Richka," he said.

I just wanted to see the base again - I felt I had to see if anything had changed. I'm not sure my wife was very pleased about it, but I felt it was something I had to do.

When they told me I was getting a Military Cross I think I went into shock, I was so surprised. There were so many people there that day that helped carry the stretchers, that carried the medical equipment, that fired back at the enemy; it was a team effort, so in my mind I am accepting this on behalf of them all.
A Military Cross is granted in recognition of exemplary gallantry during active operations against the enemy on land.
Published 16 May 2012