Royal Navy helicopters assist response to Cornwall flooding
Due to heavy rainfall on Tuesday night, parts of mid and eastern Cornwall have been affected by serious flooding. Some areas are impassable…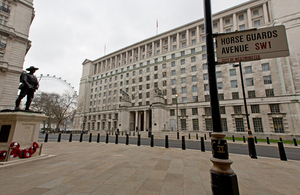 Due to heavy rainfall on Tuesday night, parts of mid and eastern Cornwall have been affected by serious flooding.
Some areas are impassable and people have been trapped in their cars and homes. Search and Rescue helicopters were scrambled to offer assistance in what police have called a 'major incident'.
The first aircraft from Culdrose was scrambled to St Austell early on the morning of Wednesday 17 November and arrived on the scene at 0630hrs.
The duty crew from 771 Naval Air Squadron was also joined in the skies by another rescue helicopter from Royal Marines Base Chivenor.
The Culdrose crew were initially tasked to search for persons in distress, but were quickly diverted to a car which was being washed into the sea to look for survivors. Shortly after this, the same crew was also asked to support efforts to rescue elderly people trapped in their homes.
Commanding Officer of 771 Naval Air Squadron, Lieutenant Commander Chris Canning, said:
The aircraft were tasked to the scene as a precautionary measure to assist the emergency services in the event of the situation deteriorating quickly.
"Helicopters prove essential in incidents like this one, not only for airlifting casualties from inaccessible places but also for providing an 'eye in the sky' and pointing other emergency vehicles in the right direction.
What would normally be routine calls for blue light services suddenly become more dangerous and difficult in conditions like flooding; therefore Royal Naval Air Station Culdrose is more than happy to provide support in the way of air cover.
In 2004, 771 Naval Air Squadron also helped the emergency services to deal with flooding in Cornwall when they airlifted men, women and children from roof-tops in Boscastle.
At lunchtime on Wednesday a second aircraft was scrambled at the request of the police to assist with a vehicle being washed into Siblyback Lake near Liskeard.
Senior Observer Lieutenant Commander Lee Kennington added:
From the helicopter I was able to witness localised flooding of about two to five feet [0.6 to 1.5 metres] in places. Although not specifically life-threatening, there is obviously a lot of damage to the communities of eastern Cornwall. Our thoughts go out to all those who have been affected.
The helicopters from Culdrose have now been stood down; however, should they be needed again, the duty crew of 771 Naval Air Squadron is on 24-hour standby (15 minutes notice during the day and 45 minutes at night) for more tasking.
The police are working with the Cornwall Fire and Rescue Service and local authorities, including the Council and Environment Agency, to deal with the effects of the severe weather.
The rain has now stopped but there is still very deep floodwater in certain areas.
Published 18 November 2010