Royal Navy helicopter rescues nine walkers from Scottish mountain
The group of walkers - three adults and six teenagers - were caught in the heavy snow and freezing conditions on Ben Macdui, the highest mountain…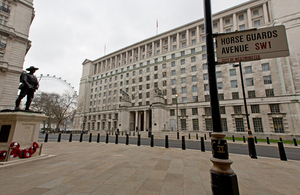 The group of walkers - three adults and six teenagers - were caught in the heavy snow and freezing conditions on Ben Macdui, the highest mountain in the Cairngorms at 1,309 metres, and second highest peak in the UK.
All nine were found safe and well at approximately 1,200 metres up the mountain and were lifted down to Braemar Mountain Rescue base.
Re-tasked from aviation training off Little Cumbrae in the Clyde at 1135hrs, the Royal Navy Search and Rescue helicopter was on site at the mountain by 1310hrs, after refuelling in Killin and then contending with 40 knot headwinds.
The duty observer [naval term for navigator] at HMS Gannet was Lieutenant Angela Lewis RN, who said:
Wind speeds on Ben MacDui when we arrived on scene were probably in the region of 50 knots and wind chill around -35 degrees centigrade, so it was quite unpleasant; very, very cold.
The job was Petty Officer Henson's very first as a qualified Royal Navy Sea King Search and Rescue aviator - he has recently joined HMS Gannet having transferred from Merlin helicopters; today was his final training and he had just qualified before the crew left Little Cumbrae en route to the Cairngorms job.
The full crew was Lieutenant Commander Geoff Richardson RN and Lieutenant Mike Paulet RN(pilots), Lieutenant Angela Lewis RN(observer), Lieutenant Alex Stevenson RN(observer) and Petty Officer Mike Henson (aircrewman).
HMS Gannet is the UK's busiest search and rescue unit - in 2011, the team responded to 298 call outs rescuing 240 people; the fifth consecutive year they had been busiest.
We need your help! We're trying out designs for a new single website for all of government and we'd love your feedback. Please visit the 'government beta' by clicking on the link under Related Links.