News story
Royal Navy helicopter plucks three to safety in treacherous weather conditions
A Royal Navy helicopter battled against the clock in wintry conditions to lift three climbers to safety in Glencoe.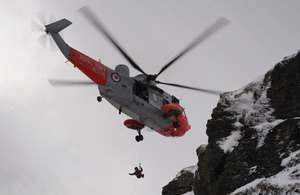 The three walkers, despite being experienced and well-equipped, had taken a wrong turn on their route and become lost.
Their distress call went into Fort William Police at 1703hrs on Sunday 2 December and the four-strong crew from HMS Gannet in Prestwick, the UK's busiest Search and Rescue unit, was alerted at 1716hrs. Despite the crew facing deteriorating weather conditions they were airborne from their Ayrshire base just 13 minutes later.
Forecasters were predicting prolonged freezing rain - a condition which impairs the aircraft's ability to manoeuvre correctly, compromising its overall performance and safety.
Duty observer (navigator) Lieutenant Angela Lewis said:
We are used to flying in pretty much all conditions possible, but there are one or two types of weather which we just simply cannot operate in - and freezing rain is one of these.
Our forecasters were aware of a prolonged threat of freezing rain last night and, as a routine course of action, we had determined a time past which it would no longer be safe to get airborne.
Obviously our three climbers couldn't have known what a close shave they really had. Fortunately the group had torches with them which they were able to shine for us as soon as they heard the helicopter's rotors approaching.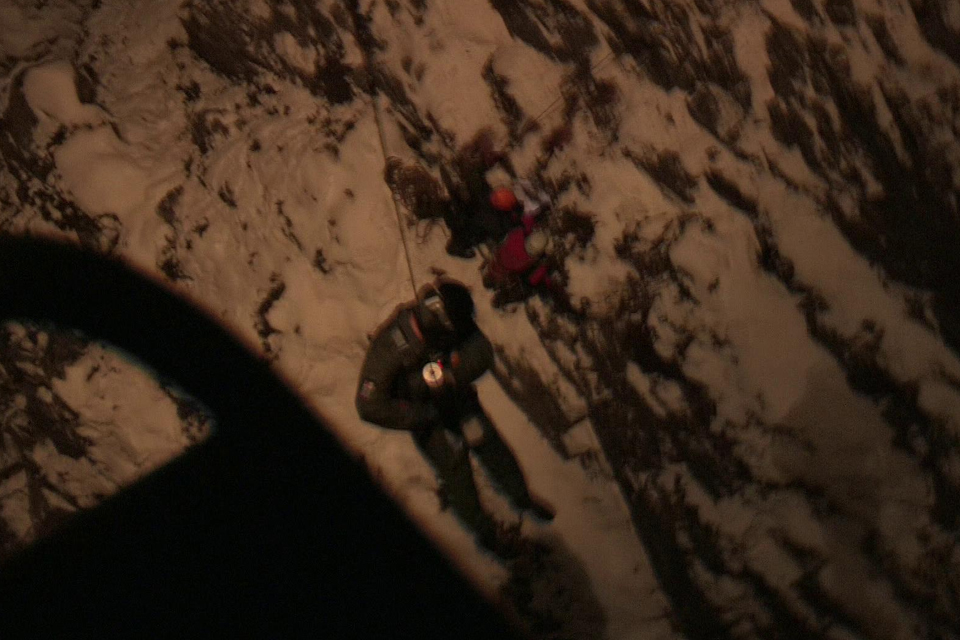 The rescuers still had their work cut out as the ledge on which two of the three climbers had become stranded was tightly tucked into the mountain face.
The crew's duty winchman, Petty Officer Taff Ashman, a trained paramedic, made three tricky descents to pick up the group; the pilots managing to bring the helicopter in close and low and Petty Officer Ashman winched on 80 feet (24 metres) of wire to make the recoveries.
With everyone safely on board, Petty Officer Ashman was able to assess that, although very cold, none of the walkers required any medical intervention. Lieutenant Lewis continued:
At about 6.30pm we put the three walkers into the care of the police at our landing site at King's House [Hotel] in Glencoe. But we knew that there was no chance of us being able to return to base - we just weren't allowed to get airborne.
So we were left grounded over night at the hotel. It's very rare for this to happen, but it isn't unknown and King's House is one of our official landing sites in the Glencoe area.
We made the decision to respond to this call in the full knowledge that we wouldn't be able to get back to base, but also in the knowledge that there were three people on that mountain who required urgent attention.
The full Search and Rescue crew comprised Lieutenant Commander Craig Sweeney and Lieutenant Jon Wade (pilots), Lieutenant Angela Lewis (observer) and Petty Officer Taff Ashman (aircrewman/paramedic).
Published 4 December 2012