Royal Navy helicopter crew plucks yachtsman from stormy seas
A yachtsman, overcome by stormy weather in the Atlantic, has been rescued by the Royal Navy's Cornwall-based Search and Rescue squadron.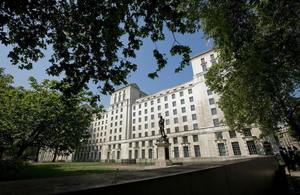 Peter Evans, aged 54, was winched from the sea by a helicopter crew from 771 Naval Air Squadron on the morning of Thursday 7 June after abandoning his yacht in stormy seas in order to be rescued.
He was flown to Royal Naval Air Station Culdrose in West Cornwall where he was looked after by his rescuers, who also provided him with some new clothing.
Lieutenant Commander Rich Full commanded the rescue operation. He said:
[Mr Evans'] clothes were soaked so we kitted him out with some overalls and trainers and a few cups of tea.
Mr Evans had been attempting to sail his small yacht from France to the Azores, but was forced to turn back away from the Atlantic islands as the weather worsened. Running for the shelter of St Malo bay, his boat was overcome by waves in the early hours and was tipped over twice by the force of the sea.
Mr Evans said:
I didn't get any sleep at all last night, the sea was so rough. I've never seen anything like it.
Eventually, conditions became so bad that Mr Evans decided to set off his distress beacon:
At first I didn't think it was working," he said, "but when I heard the aircraft I knew I was okay.
The crew of Sea King helicopter 'Rescue 193' were scrambled at the end of a 24-hour shift during which they had already carried out a cliff rescue on the North Cornwall coast.
Petty Officer Aircrewman Shaun Knights was the winchman who pulled the yachtsman to safety.
The helicopter was piloted by Royal Marines Captain Birtie Cross and Royal Navy Lieutenant Simon Thompson, who had flown his first ever rescue mission only the previous day and had to hover the helicopter just feet away from the yacht's mast in order to make the rescue.
Published 8 June 2012