News story
Royal Navy flagship sails into Gibraltar
Royal Navy flagship HMS Bulwark sailed into Gibraltar today, 6 December, on her way back to the UK.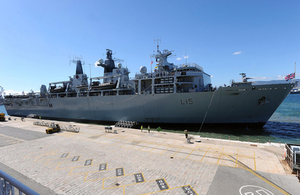 This follows a successful deployment to the Mediterranean and Middle East as part of the Cougar 13 deployment.
The 4-month deployment gave elements of the UK's Response Force Task Group the opportunity to hone and validate their world-class maritime skills through exercises with a number of key allies.
The commanding officer of HMS Bulwark, Captain Andrew Burns, said:
It will be great to be back in Gibraltar on the final leg of what has been a very successful 4-month Cougar 13 deployment as the flagship for the UK's Response Force Task Group.

My ship's company is looking forward to a short operational stand-down in Gibraltar and we will also benefit from the excellent facilities provided here as one of the UK's permanent joint operating bases.

We will then focus on our return to Plymouth [on Friday 13 December] in time for Christmas and a homecoming with family and friends.
In keeping with an old British tradition that a new governor of Gibraltar should arrive on a Royal Navy vessel, HMS Bulwark also had the honour of delivering General Sir James Dutton to his post.
Accompanied by his wife Lady Dutton, the couple disembarked at the naval base to be greeted by military and civilian dignitaries, and the Royal Gibraltar Regiment fired a 17-gun salute to mark the occasion.
Captain Burns said of the special delivery:
It's a great privilege to be able to deliver the new governor and Lady Dutton to their new home, and I hope that it has been a memorable journey on HMS Bulwark.
Published 6 December 2013