Royal Navy engineers receive infantry training in Afghanistan
A small team of Royal Naval engineers, who fly out to fix and recover Sea King helicopters that break down outside the confines of Camp Bastion, have arrived in Helmand and are being trained by the infantry.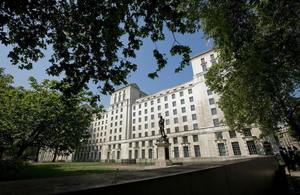 The 845 and 846 Naval Air Squadron contingent from the Commando Helicopter Force (CHF) has been based at Bastion for three years working as part of Joint Helicopter Force (Afghanistan).
The unit comprises pilots, aircrewmen, door-gunners and dedicated engineers who work around the clock to ensure that their 'Jungly' Sea King Mk4 helicopters are serviceable for tasking.
When a new deployment to the unit first arrives, the first job is to acclimatise to the 40-degree heat and to conduct theatre-specific training to supplement that carried out prior to deploying.
Whilst most people from the CHF spend two days training, engineers selected for the 'downbird' team, who fly out to fix and recover any Sea King helicopter that breaks down outside Camp Bastion, spend four days being trained in the ways of the soldier.
The training to prepare the engineers for this eventuality of 'operating outside the wire' consists of both theory and practical lessons, all focused on the threats faced every day by ISAF troops in Helmand but, hopefully, never to be experienced by the engineers or aircrew of the CHF.
Leading Air Engineering Technician (LAET) Garry 'Bats' Bateman, an avionics supervisor from 845 Naval Air Squadron, and part of the downbird team, said:
I really enjoyed the training. I was very motivated by the lecture on Afghanistan and really identified with how we could help the local population.
Following the mandatory training, the personnel organised some extra training at the Forward Operating Base (FOB) range in Camp Bastion.
This is a live range designed to look like a FOB - a small base used as a staging point for troops where units can practise their defensive techniques. LAET Bateman concluded:
As naval engineers, the exposure to basic infantry techniques really hammered home what challenges our soldiers face daily and the conditions in which they live outside the confines of Bastion.
The training was hot, sweaty and tiring but very enjoyable, and I now feel confident that should myself and the rest of CHF's downbird team need to go over the wire to recover a downed Sea King, we could all work as a team to extract ourselves from any situation.
Published 27 October 2010