Royal Navy divers dispose of three bombs in a day
Bomb disposal experts from HM Naval Base Clyde's Northern Diving Group had a busy time of it recently when they were called out to three different bomb disposal tasks in a single day.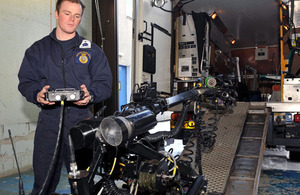 Among the call-outs on 4 April 2011 was a trip close to home, the nearby Kirkmichael Estate in Helensburgh, where a smoke grenade was found in a play park.
Strathclyde Police called colleagues in the Ministry of Defence Police who looked after the device while members of the Diving Group made their way there.
Petty Officer Buster Brown, who attended the incident, said:
It turned out that the smoke grenade was a spent charge. I have no idea how it made its way to the play park, but obviously there are a few military ranges dotted around the area where it could have been picked up and there's the possibility that it could have been washed up somewhere.
We took the object back to Faslane where we will store it until we can dispose of it safely.
On the same day, the team received a call to head to Irvine where a type of submarine smoke marker had been found washed up on a beach.
The object, which had French and English writing on the side, was blown up by the diving team in a controlled detonation just a few hundred metres away from the Magnum Leisure Centre.
To top the hectic day off, the Royal Navy divers where then phoned by Strathclyde Police and whizzed off to Airdrie where a nine-year-old schoolboy had found a Second World War bomb in some nearby woods.
The boy had taken the rusty bomb home to show his gran who immediately realised the danger and called the authorities.
In this case the object turned out to be a ten-pound [4.5kg] practice bomb," said Petty Officer Brown.
It was very badly corroded and we could see immediately that it did not contain any explosives. We took the object back to HM Naval Base Clyde with us and disposed of it.
Petty Officer Brown continued:
It was an extremely busy day for the Group and highlights the need for the public to know what to do if they find wartime ordnance. Don't move it, alert the police and leave it to the professionals!
The Northern Diving Group are available at a moment's notice every day of the year, not only to dispose of the hundreds of items of wartime ordnance washed up on beaches, but to tackle improvised explosive devices in the Glasgow and Edinburgh areas.
The bomb disposal experts have a range of equipment at their disposal when tackling the devices they encounter - everything from protective bomb suits to the sophisticated Mark 8 Wheelbarrow, a remotely-controlled bomb disposal robot.
Published 7 April 2011