Royal Navy diver awarded for role in saving ship
A Royal Navy diver who battled a major flood for more than 45 minutes in the submerged and darkened engine room of HMS Endurance has received a top honour.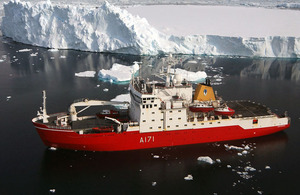 Leading Seaman (Diver) Carl Thomas has been awarded the Queen's Commendation for Bravery after repeatedly diving into the engine room of the ice patrol ship to try to repair a valve that had opened unexpectedly, causing a major flood and near-loss of the ship.
LS(D) Thomas, who is based at the Fleet Diving Squadron at Horsea Island, Portsmouth, was eventually forced back by the torrent of water but had tried three times to get to the valve despite the lack of lighting and the number of obstacles in the compartment:
The engine room was about two-thirds flooded by the time I got in there," said LS(D) Thomas. "I had been given a brief from the chief engineer on what I needed to do to stop the flood.
It was a challenge to see in the engine room because it was flooding so fast and all the lights were going off as well.
I was nervous, but all my adrenaline and training kicked in because I knew that we needed to stop the leak to stop the ship from sinking. That made me more determined to get in there.
I did three separate dives all together so I was probably in the water for about 45 minutes. The force of the water meant I just couldn't get to the valve and when I came back up they shut that compartment completely.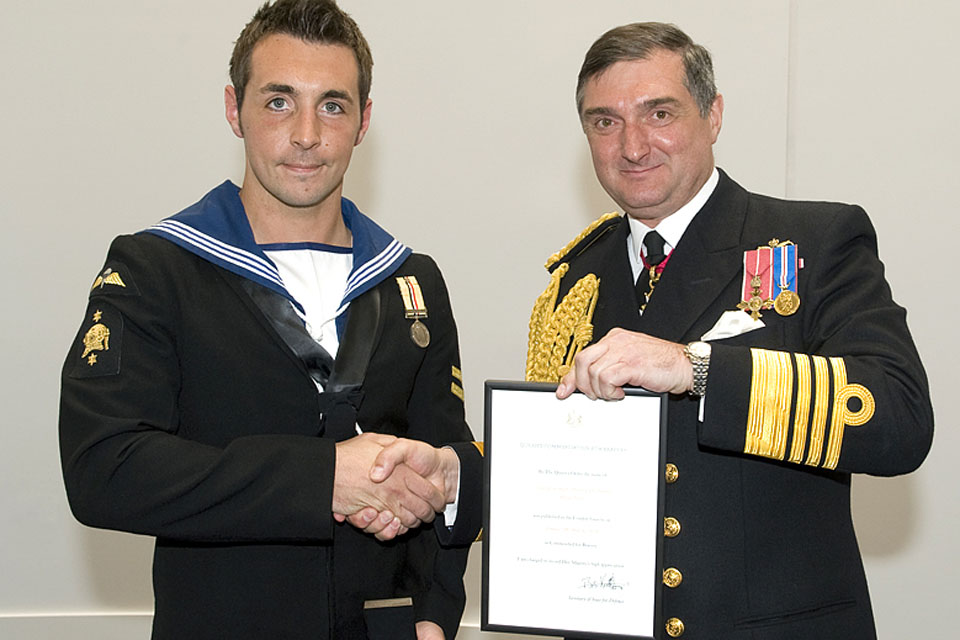 HMS Endurance was on an 18-month deployment in the South Atlantic when her engine compartment flooded during maintenance on 16 December 2008.
A mayday warning was sent out after the ship lost all propulsion while in the Straits of Magellan and the damage control teams were put into action to pump out the water and stem secondary flooding.
The anchor was lowered and caught to stop the ship drifting toward land and potentially grounding, and she was then towed to Punta Arenas in Chile before later returning home to Portsmouth.
LS(D) Thomas, who is from Llanelli, South Wales, was informed of his award while serving on survey vessel HMS Scott earlier this year.
His citation reads:
You demonstrated outstanding courage and fortitude in the most hazardous conditions. Repeatedly attempting to stop sea water entering the engine room, you displayed a complete disregard for your own safety in order to save your ship.

Throughout every stage of this emergency, your selfless bravery and unwavering commitment were remarkable and in the finest traditions of the Service.
Presented with his award by Commander-in-Chief Fleet Admiral Sir Trevor Soar, LS(D) Thomas said he was extremely proud to be recognised.
It is a good feeling to be part of the team that managed to save the ship," he said.

Although I got the award, I really think it was a combined effort from the whole ship, we were completely united in our goal.
Currently part of Fleet Diving Unit 1 at Horsea Island, LS(D) Thomas has volunteered for a six-month deployment to Afghanistan.
Published 19 May 2010