Royal Navy cyclists take second national title
A team from HMS Raleigh has cycled a combined distance of 1,341 miles (2,158km) to earn the Royal Navy the title of UK national 24-hour time trial champions for the second year running.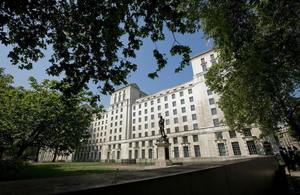 Warrant Officer Class 1 Garry 'Scooby' Drew, Colour Sergeant Stuart 'Nutty' Edwards and former Chief Petty Officer Bob Richards took on some of the best endurance cyclists in the UK to defend the title at this year's event held at Farndon in Cheshire.
The three men were competing as part of the Royal Navy and Royal Marines Cycling Association (RNRMCA). Each competitor was required to cycle as far as possible on pre-marked dual carriageways, and A and B roads, within the timescale. The trio each achieved a personal best during the competition.
WO1 Drew completed a total of 467.64 miles (752.59km) and rode in to take third place and an individual bronze medal, his first national individual medal.
The 45-year-old from Torpoint took up cycling time trials in 2002 and was part of the winning RNRMCA team last year.
He went into the race having won the Welsh 12-hour time trial with a distance of 270 miles (435km) just three weeks before this event.
WO1 Drew overcame problems with his bike in the 24-hour race, including a detached front light, which was fixed by his support crew, and a broken spoke and a faulty back wheel which required a transfer to his road bike. He said:
I felt confident I could manage around 250 miles [402km] at 12 hours but I wasn't feeling confident about the second half of the race. At the 100-mile [161km] point I wasn't feeling comfortable and was beginning to realise it was going to be a long old day.
My pace started to pick up and I achieved 248 miles [399km] in the first 12 hours which I was happy with.
My main problem during the second half of the race was lack of nutrition as I couldn't face anything sweet. I went through a couple of bad patches but settled down again on the finishing circuit.
I had no idea what position I had finished in so I was absolutely delighted when I realised that we had retained the team title and that I had won my first national medal.
Colour Sergeant Edwards, from Plymouth, improved on his performance last year by finishing in fourth place overall, cycling a total of 458.33 miles (737.6km).
He joined the Royal Marines in 1980 and took up cycling as his sport of choice in 2002.
Chief Petty Officer Richards stepped into the breach as a member of the team to fill a gap left by the Royal Navy's main contender, Chief Petty Officer Sean Childs, who is currently taking time away from competitive cycling.
Chief Petty Officer Richards is employed at HMS Raleigh by VT Flagship. The 53-year-old has been cycling in one form or another since 1972 and started racing in 2005 after joining the RNRMCA.
He achieved 20th place last year and this year clocked up 416.36 miles (670km) to take 14th place.
RNRMCA team captain, Chief Petty Officer Childs, said:
To win a national championship just the once is an amazing feat in itself, but to win it for a second successive year against some of the top endurance cyclists is a major achievement.
This shows that Navy sport can challenge the best when it comes to prolonged activity, where grit and determination is a key fact.
It's a fitting tribute to Drew and Edwards, who now hold two prestigious honours, but a special mention must go to Richards who showed dogged tenacity to step up to the challenge.
A mention must also go out to the support crew, made up of friends and ex-Service personnel, who were on hand throughout the 24 hours to ensure that all riders were taken care of with plenty of food, liquid and sudocrem.
Published 10 August 2010