Royal Navy crew in hazardous snowy rescue
The four-strong Royal Navy Search & Rescue team were re-tasked from routine training at approx 1600hrs on Sunday, 18 December 2011, to Munro…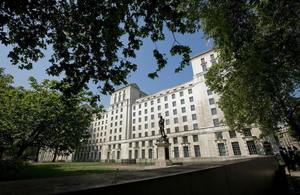 The four-strong Royal Navy Search & Rescue team were re-tasked from routine training at approx 1600hrs on Sunday, 18 December 2011, to Munro Beinn Sgulaird, which lies between Glen Creran and Glen Etive. The mountain was in pitch darkness and in the grip of low cloud, and swirling blizzards.
The climber was in a precarious position near the 3,074ft (937m) summit and it was a race against time for the Prestwick-based Sea King helicopter in extreme conditions flying very close to the mountain's rock face to recover him to safety.
Aircraft commander and pilot, Lieutenant Commander Craig Sweeney, explained:
It was very dark and very cold. The cloud base was at around 1,000ft [305m] when we arrived and it really did look doubtful as to whether we would be able to fly up the mountain at all.

However, what was also clear was that the casualty had a serious ankle injury of some kind and was not going to be able to walk down the mountain.

Taking that into account and the harsh wintry conditions, and the fact that in such low temperatures every minute can make a huge difference to survival, we set to work to try and get through.
Collecting three members of Oban Mountain Rescue Team (MRT) the helicopter began a slow hover-taxi up the mountain, meeting nothing but swirling snow:
Essentially, as a pilot I could see nothing," added Lt Cdr Sweeney.

It was intense flying which relied on dozens of years of the whole crew's experience and expertise, and really full-on team work.
I have trained and worked with Chief Petty Officer Jason Bibby, my winchman, all around the world and, more notably, have practised this very technique both in the arctic conditions of Norway and the desert sands of Afghanistan, where you get a very similar thing happening when the rotors kick up the fine sand particles.

And it all led to us being able to get the job done safely and as quickly as possible in some of the worst conditions we have experienced this year.

It was a long, slow process and it paid off when we got just below the summit where we found the walker.

He had had the forethought to shine a torch, which we were just able to make out, and together I and my co-pilot Lieutenant Mark Wielopolski managed to get the helicopter into a position where we could set down the three members of MRT and our aircrewman.

Conditions underfoot for the rescuers were absolutely treacherous and it was also extremely steep at that point.

Our winchman Jason is also a qualified paramedic and was able to make immediate on-site assessment of the casualty.

It appears he had slipped and hurt his leg, and had been lucky enough to fall in an area where he had enough mobile coverage to raise the alarm.

The casualty had managed to keep himself warm in a bivvy bag, so he wasn't suffering too badly from the cold. But I think he was pretty pleased and relieved to see Jason, the MRT guys and our helicopter.
The team transferred the MRT down to the base of the mountain before delivering the casualty to Belford Hospital in Fort William, where they arrived with a mere five minutes of fuel left - they were able to refuel at Corpach before continuing their work.
The crew was pilots Lt Cdr Sweeney and Lt Wielopolski, observer Lieutenant Phil Gamble and aircrewman/paramedic CPO Bibby.
Published 22 December 2011