Royal Navy Cougar 11 Force begins exercises off Cyprus
Exercise Cypriot Lion, designed to demonstrate the versatile capabilities and high readiness of the Royal Navy's new Response Force Task Group…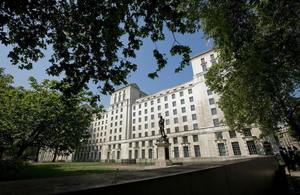 Exercise Cypriot Lion, designed to demonstrate the versatile capabilities and high readiness of the Royal Navy's new Response Force Task Group (RFTG), combines air defence exercises and live firings out at sea with amphibious exercises in coastal waters involving Royal Marines of 3 Commando Brigade.
It will be the first major exercise of the complete RFTG in the Cougar 11 deployment.
Three ships - HMS Albion, HMS Sutherland, and Royal Fleet Auxiliary (RFA) vessel Cardigan Bay - left the UK with elements of the commando force at the beginning of April, and were in Cyprus last month for a series of amphibious exercises.
For Exercise Cypriot Lion, they are being joined by a second group of ships - the helicopter carrier HMS Ocean, landing ship RFA Mounts Bay, fast fleet tanker RFA Wave Knight, and supply ship RFA Fort Rosalie.
In addition to 40 Commando Royal Marines and elements of 3 Commando Brigade Headquarters, the Task Group also includes marines from the Royal Netherlands Marine Corps, with whom the UK has a long-standing association.
Both countries have a history of co-operation in the field of amphibious warfare that dates back to the Siege of Gibraltar in 1704, a relationship cemented through the creation of a joint UK-Netherlands Landing Force in 1973.
Commodore John Kingwell, Commander UK Task Group, said:
Consisting of ships, helicopters and Royal Marines held at high readiness, the Response Force Task Group enables the Royal Navy to respond at short notice to unforeseen events in an unpredictable and fast-moving world.
Naval forces are ideally placed to respond to a range of missions central to UK defence and security. The involvement of marines from the Netherlands underlines the role that the RFTG can play alongside our international partners in support of wider maritime security and regional stability.
Colonel Haydn White, Deputy Commander, 3 Commando Brigade Royal Marines, added:
For the second time in the Cougar 11 deployment, the support of British Forces Cyprus has been invaluable in providing realistic and innovative training scenarios, whether at sea, along the shore, in the harbour, and on land.

Cypriot Lion is the ideal opportunity for Royal Marines from 3 Commando Brigade to exercise their core amphibious skills.
The RFTG is a new initiative announced in last year's Strategic Defence and Security Review and is at the heart of the UK's maritime contingent capability, held at very high readiness to respond to unexpected global events. It highlights the enduring need for the Armed Forces to plan and train for unforeseen events that may occur in parallel with ongoing high priority, resource intensive, military operations.
Initially, the Task Group will demonstrate its amphibious capabilities through multinational exercises in the Mediterranean, before conducting further exercises in the Indian Ocean and the Gulf.
Commodore Kingwell commands the Task Group from the fleet flagship, HMS Albion.
Published 13 May 2011