Royal Navy commemorates Trafalgar Day
The Royal Navy's most important anniversary has been marked for the 207th year by a ceremony on board HMS Victory and a parade by cadets through Trafalgar Square.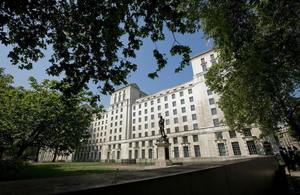 21 October is the anniversary of the most decisive naval battle in British history - Admiral Lord Nelson's triumph at the Battle of Trafalgar in 1805. The anniversary also marks the death of Nelson who was fatally wounded during the action.
Sea and Royal Marines Cadets, including an 80-strong massed band, took part in a march from The Mall to Trafalgar Square to mark the historic day. Sea cadets have been taking part in this national event for over 100 years.
On board HMS Victory, the hoisting of the 'Colours' (the Union Flag and White Ensign) and Nelson's signal 'England Expects' marked the start of the commemoration.
The central act of the commemoration saw the laying of a wreath on the spot where Nelson fell by the Chief of Naval Personnel and Training and Second Sea Lord, Vice Admiral David Steel - his first time in his new role as Admiral in charge of HMS Victory.
Further wreaths were then laid on the orlop deck where Nelson died by Brigadier David King Royal Marines and HMS Victory's 100th Commanding Officer, Lieutenant Commander Rod Strathern.
Lieutenant Commander Strathern said:
Trafalgar Day is the proudest day in the calendar of the Royal Navy and the ceremony on board Victory is a particularly poignant one as we remember this most famous of victories, but also remember our most celebrated naval leader and those who fell with him.

It is a privilege to be able to mark this occasion alongside our new Second Sea Lord, Vice Admiral Steel.
Each year, the victory is celebrated across the UK as well as in the Australian town of Trafalgar, Victoria, where the population of 2,200 hold an annual Battle of Trafalgar Festival, with a Trafalgar Day Ball held on the Friday or Saturday closest to 21 October each year.
Published 22 October 2012