Royal Navy clears Libyan harbour mine
Forces loyal to Colonel Gaddafi have made repeated attempts to close down the port to limit the flow of humanitarian assistance to the population…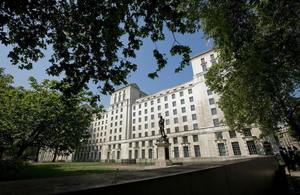 Forces loyal to Colonel Gaddafi have made repeated attempts to close down the port to limit the flow of humanitarian assistance to the population of Misurata.
Using her sonar and underwater mine disposal system, Seafox, HMS Brocklesby successfully located and destroyed a buoyant mine just one mile (1.6km) from the entrance to the harbour.
The mine, containing more than 100 kilogrammes of high explosives, had been crudely placed by pro-Gaddafi forces using an inflatable dinghy to transport it out to sea.
Lieutenant Commander James Byron, Commanding Officer of HMS Brocklesby, said:
I am extremely pleased we have been able to dispose of ordnance in the approaches to Misurata that is now a vital lifeline for the delivery of humanitarian aid into Libya.

Our actions on behalf of NATO are directly contributing to the continued welfare of the Libyan people. In helping to keep the port of Misurata open we are ensuring the continued flow of essential medical assistance and allowing the evacuation of innocent civilians from the country.
This is exactly the kind of operation my crew have trained for, dealing with live mines posing a threat to legitimate shipping within sight and range of shore bombardment. My team have handled themselves superbly in the execution of this mission, reacting stoutly to the very real threat posed by rockets and artillery ashore.
Misurata is a critical port for the continued flow of humanitarian aid into Libya and for the evacuation of displaced persons to safety.
The Defence Secretary, Dr Liam Fox, said:
HMS Brocklesby is carrying out vital work to secure the waters off Misurata to allow humanitarian aid to reach the civilian population. This specialist capability is helping prevent Gaddafi forces from sealing off the port to deny medical and food supplies to the people of Misurata.
Within 24 hours of the reported laying of mines HMS Brocklesby and an allied ship were deployed to control the flow of traffic in and out of Misurata to protect shipping and conduct mine disposal operations. Both vessels disposed of mines to open the port for normal operations.
HMS Brocklesby is operating in support of Operations ELLAMY and UNIFIED PROTECTOR to enforce the arms embargo off Libya and protect Libyan civilians from continued violence.
Published 5 May 2011