Royal Navy bomb squad recovers torpedo
A team of Royal Navy explosive experts has recovered a 1954 Mark 9 torpedo off the coast of Beachy Head, Eastbourne, after a fishing boat spotted it floating in the sea.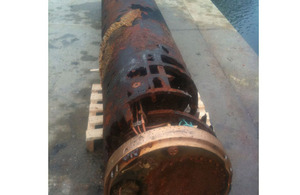 Southern Diving Unit 2 (SDU2) responded to an urgent call by Dover Coastguard after the five-metre-long section of a torpedo was seen by the crew of the Royal Sovereign fishing boat at around 1430hrs on 8 February 2011.
Photographs sent by the sailors to SDU2 in Portsmouth confirmed that the section did not contain any explosives and was in fact the pressure vessel and engine part with the warhead and propeller completely rotted away.
Once the Portsmouth-based squad arrived at 1800hrs, the divers made a further inspection of the torpedo, which had been tied to a buoy by the Royal Sovereign fishermen, and at 0600hrs the following morning they towed it to the beach.
Officer-in-Charge of SDU2, Lieutenant Commander Alan Nekrews, said:
The important thing is that there was no warhead attached so it didn't have any explosive elements - we could see this from the images we were sent and then we certified the fact that it was safe when we made an inspection.
It was then handed over to the Coastguard who decided they wanted to keep it.
Although SDU2 would normally dispose of the section, the torpedo is now on display at Sovereign Harbour Marina.
Published 11 February 2011