Royal Navy blows up WW2 German mine in Thames Estuary
Royal Navy divers destroyed a Second World War German mine in the Thames Estuary off the Kent coast on Sunday 8 April.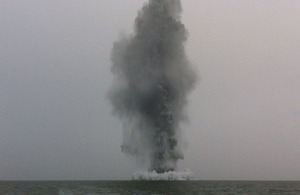 The German GC mines contained some 1,500lb (680kg) of high explosive and were usually dropped by parachute during the war. This particular mine was caught in the nets of a fishing vessel last week and then placed on the sea bed off Sheerness to be dealt with by the Royal Navy's bomb disposal experts.
In an operation coordinated with Kent police, Coastguard and Medway Port Control officers, the divers brought the mine to the surface using a mine-lifting air-bag on Saturday 7 April and towed it, using a rigid inflatable boat, to a location some six miles (9.66km) east of Sheerness and two miles (3.22km) off Warden Point, Isle of Sheppey. A one-mile (1,609m) safety zone was established around the operation for other boat traffic.
A first attempt to destroy the mine was thwarted when the countermining charge misfired, but the team succeeded at the second attempt just after 0900hrs on Sunday 8 April. The mine exploded with a "high order" detonation, meaning that the original high explosive content itself blew up when the countermining charge was initiated.
The four-man Navy team, part of Southern Diving Unit 2 (SDU2), was led by Petty Officer Diver John O'Brien. The Unit's work regularly involves clearance of wartime ordnance from the beaches and waters around the southern and eastern part of England.
Last week, divers from the same unit recovered part of a German V2 rocket at Harwich, Essex. Yesterday, Monday 9 April, the team examined another piece of ordnance – thought to be a Second World War German bomb – some three miles (4.8km) off Margate.
Lieutenant Dan Herridge, the Officer Commanding SDU2, said after the successful operation:
Due to the amount of high explosive in the mine, which posed a significant risk to public safety, it was necessary for the mine to be lifted and taken to a safe location to be dealt with.
Published 10 April 2012