World news story
Royal Navy and Omani Navy in a joint naval exercise.
This was published under the 2010 to 2015 Conservative and Liberal Democrat coalition government
The Royal Navy's Response Force Task Group have recently conducted a joint naval exercise 'Cougar' with the Royal Omani Armed Forces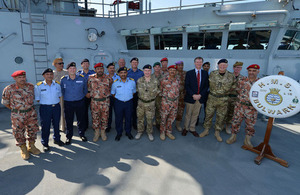 British forces have recently conducted a joint naval exercise 'Cougar' with the Sultan Of Oman's Armed Forces. British Royal Marines from 42 Commando practiced live firing and urban combat training in Oman while Royal Navy ships held maritime warfare serials with and five warships from the Royal Navy of Oman (RNO). Additionally, a joint Omani and UK practise amphibious landing was conducted near Salalah with Members of the Royal Army of Oman and the Royal Marines working closely together.
"The opportunity to practise live firing whilst integrated with Viking has been fantastic; the austere environment has added to the realism and will prepare us for any likely future taskings as part of the Response Force Task Group. We simply do not get opportunities to train like this back in the UK and we're looking forward to working with our Omani colleagues," said Capt Chris Stevens, second in command of Juliet Company, Royal Marine Commandos.
HMA Jamie Bowden attended part of the exercise along with the Chief of Staff of the Omani Armed Forces and other senior military officers. In addition, they attended a VIP Day to visit the Ships and witness the amphibious landing demonstration.
Commodore Paddy McAlpine, commander of United Kingdom Task Group based on HMS Bulwark, said, "Each exercise has taught us something new, whether it be the impact of the environment on our people and ships or the challenges we face in sustaining a task group thousands of miles from our home waters. "This time we will fully inter-operate with RNO, which can only help strengthen future collaborations," .
Austin Smith the Naval /Air attaché in the Embassy said:
Her Majesty's Government is extremely grateful for the opportunity to be participating in Exercise COUGAR alongside the highly professional personnel of the Royal Army of Oman and the Royal Navy of Oman. This joint army and naval exercise provides a valuable opportunity for British and Omani military forces to work together closely to practise military skills and exchange ideas. The exercise has been jointly planned and managed by a combined Omani/UK exercise staff that have integrated very well together. The COUGAR Exercise is one of several annual military exercises between the UK and Oman and is very good example of the extraordinarily close and enduring relationship that exists between our two countries.
Document information
Published: 3 November 2013