Royal Naval submarine ceremonial re-entry into fleet
The Royal Navy's most capable and up-to-date Trafalgar Class hunter-killer submarine, HMS Trenchant, was ceremonially welcomed back into the operational fleet at a special event on Friday, 3 June.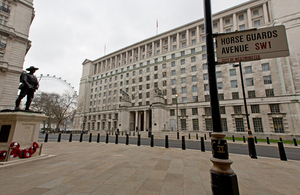 Beneath a hot sun and clear sky, the submarine crew hosted 200 of their family members and friends at HM Naval Base Devonport, Plymouth, to mark the vessel's reintegration into the fleet after an extended upgrade period.
HMS Trenchant's Commanding Officer, Commander Irvine Lindsay, addressed his smartly turned-out ship's company on the parade ground. He acknowledged they were very keen to get to sea after the refit and praised them as the 'finest' in the Royal Navy. He thanked his crew's families for their support, which enables the submariners to concentrate on being as operationally effective as possible when away at sea.
The submarine entered the Devonport submarine refit complex late in 2009 and after many months of hard work by Royal Navy technicians and Babcock Marine Ltd it has taken shape as one of the most capable and powerful vessels in the Royal Navy. The submarine has also undergone a number of significant improvements to her sonar suite and Tomahawk cruise missile capability.
Commander Lindsay said:
This is a very special day for HMS Trenchant and her ship's company. It is a testament to the commitment of the crew and their families and of the support and service of the local workforce that HMS Trenchant returns to the Royal Naval fleet a more capable and deadly vessel than ever.

She is packed with the latest equipment and weaponry and will be a potent presence worldwide for many years to come, and whilst the hardware is impressive, it is the ship's company who are the key component in HMS Trenchant. It is an absolute honour to be in command of such a fine body of men.
Lady Meriel Hunt was guest of honour at the rededication ceremony on the parade ground at Devonport Naval Base. Lady Hunt became the submarine's sponsor in 1989 when she launched HMS Trenchant. Her husband, Admiral Sir Nicholas Hunt, was the Commander-in-Chief Fleet at the time.
Lady Hunt inspected ceremonial divisions, with members of the submarine's affiliated Sea Cadet units, TS St David's and TS Echo (Llanelli), parading alongside members of the crew.
Families of the submariners were joined by representatives of various organisations from their affiliated town, Llanelli, including members of the town and rural council and old comrades from the Royal Naval Association.
A rededication ceremony is a traditional part of any Royal Naval unit's life as she completes a period of refit and improvement. The upgrade ensures the submarine is ready and able to meet the United Kingdom's varied commitments. The crew will now begin a period of training and testing so they are ready to start operating around the world.
Published 7 June 2011