Royal Military Police receive Afghanistan medals
Personnel from 110 Provost Company, 1st Regiment Royal Military Police, were presented with Afghanistan operational medals yesterday following their return from a demanding six-month deployment.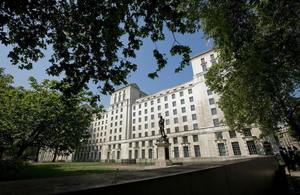 110 Provost Company, which also had members of the Royal Air Force Police and a Royal Marine attached to them during the tour, provided a vital military policing role in support of the NATO-led mission to prepare the Afghans to fully take over the security of their own country.
Often based on the front line in forward operating bases and checkpoints, personnel provided a range of specialist policing and security support across Helmand province between September 2011 and April 2012.
The military policemen and women were primarily involved in working with and training members of the Afghan National Police, investigating possible insurgent activity, apprehending and guarding suspected insurgents, partnering members of the Afghan National Army and also taking on an infantry role - going on patrols.
Lance Corporal Danielle Cairns, aged 22, serves with the Territorial Army (TA) and deployed to Afghanistan with 110 Provost Company. She said:
The most interesting part of the tour was working with the Afghan Police as a woman. They have a different way of life and it is unusual for them to work with women but it was not a problem.
We would take them to the vehicle checkpoints - and ensure that they knew how to search vehicles and people properly and how they should engage with local people professionally.
I was really surprised with how they took to me - they were brilliant and really improved during my time with them. That was the most rewarding part of my tour, it was inspiring.
Lance Corporal Cairns, who joined the TA in 2010 along with the rest of 110 Provost Company, received her medal at a special ceremony at their barracks in Paderborn in North Germany. She said:
I also worked in a Close Support role embedded with the infantry accompanying them on daily patrols doing everything from evidence gathering to detainee handling and working with the Afghan police on the ground.
I am very proud of the work we did out there and receiving my medal it was a great experience.
The parade, which included music from the Band of The Prince of Wales's Division and was watched by families, was attended by Brigadier Eddie Forster-Knight, Provost Marshal (head of the Royal Military Police), who presented the medals. He said:
I'd like to welcome and thank 110 Provost Company. Afghanistan is a very difficult operational challenge, our job is to get on and deliver operational success.
I have seen significant changes on the ground with the development of the Afghan security forces and the police. This is core work to us and it is very clear that you have done an outstanding job in delivering operational success.
I also want to thank the families who are here today. You will have been through a difficult time; we do not underestimate the support you provide to personnel on operations. We could not function as soldiers without the support of our families.
Finally I'd like to thank the Rear Operational Group of 110 Provost Company. It is a difficult job when you are the element left behind when your comrades deploy. Thank you all.
110 Provost Company supported 20th Armoured Brigade during the tour and were instrumental in helping to ensure that the Afghan Police and Army will be ready to fully take over the security of Helmand by 2015.
Published 26 April 2012