Royal Marines work with Afghan Forces to protect their communities
Until recently the area, where the Royal Marines from RM Condor in Arbroath have been patrolling alongside Afghan soldiers from 3 Brigade 215…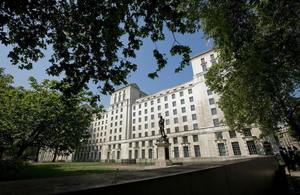 Until recently the area, where the Royal Marines from RM Condor in Arbroath have been patrolling alongside Afghan soldiers from 3 Brigade 215 Corps, was a launch pad for insurgents to attack ISAF and Afghan troops as well as innocent civilians living in the Nad 'Ali protected community.
The Afghans have been taking the lead, clearing compounds and using their specialist teams, who have been trained by UK forces, to find and destroy improvised explosive devices (IEDs).
Since the operation began, significant progress has been made in clearing the area of insurgents and ensuring they can no longer use it as a safe haven.
The Commanding Officer of 45 Commando Royal Marines (45 Cdo RM), Lieutenant Colonel Oliver Lee MBE, said:
This operation brings another significant chunk of Nad 'Ali and therefore Helmand province under the control of the Government of Afghanistan. In doing so, it denies the insurgent an area in which he used to operate with impunity. This is appealing to the mass of the people whose confidence actively to reject the insurgency is tangibly growing.
Captain Kane Holford, Zulu Company, 45 Cdo RM, said:
The results so far have been really positive; the roads are now clear of IEDs and the local people feel much safer now the insurgents have been pushed out.
Having cleared the area of the insurgents, it is now up to the Afghan Local Police (ALP), who have been trained by 45 Cdo RM and other members of Combined Force Nad 'Ali (South) to help provide long-term, lasting security.
The ALP are volunteers from the local community who work to support the Afghan National Police.
Sergeant Major Fullerton, Royal Engineers, is one of the ALP trainers:
The ALP love the training; they are so enthusiastic and are great students to instruct. The ALP is a part-time force, and many of the officers have day jobs to do as well as providing security. They are passionate about providing lasting security for their home towns and villages.
The local ALP Commander, Molim Sher Agha, said:
We have been very impressed with the training and my men are now ready to move into the checkpoints and help protect their community. The local people are sick of insurgent intimidation.
There are now more than 500 Afghan Local Police operating across five sites in Helmand.
Published 16 June 2011