Royal Marines unveil monument to their fallen
The memorial, made of granite by a Taunton stonemason, was paid for after a groundswell of public support for the unit which has recently returned…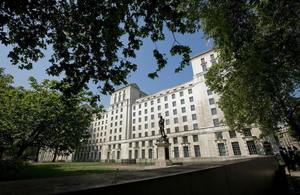 The memorial, made of granite by a Taunton stonemason, was paid for after a groundswell of public support for the unit which has recently returned from operations in Afghanistan.
The black, globe-shaped memorial was blessed by the unit's chaplain, Andrew Rawding, at a special ceremony attended by some of the families of the 14 Marines who have died in Afghanistan, civilian fundraisers including Royal Marines Association branches, and the Mayor of Taunton, Jefferson Horsley.
Lieutenant Colonel Paul James, 40 Commando's Commanding Officer, thanked the fundraisers and others who helped build the memorial garden site. He said:
It is very moving to be here and to think this beautiful memorial and the garden was all made possible only through the generosity and kindness of people who undertook it all while we were out in Afghanistan, largely without our knowledge.

Both local people and others throughout the country helped raise money. It is a source of added pride to know that we have so much support, especially when people are giving their lives in combat.
A slow-growing memorial tree and dedicated plaque is planned for each of the fatalities in Afghanistan.
Claire Marsh and her young daughter Molly, aged four, the widow and daughter of Royal Marine David Marsh, who died in a roadside bomb blast in 2008, placed flowers at his tree and plaque. Claire said:
This garden is a lovely place to come and pay tribute to David. He was killed by an IED when driving with his colleague and friend Lieutenant John Thornton on patrol with the Fire Support Group.

They were both killed together. The garden is an ideal place to meet other families and I have spoken to John's family today. It is very comforting to share this support. It makes me extra proud of David to be here part of the ceremony with Molly.
Lt Col James added:
It is a particularly proud moment to help launch the memorial and garden. It is a good place for families, friends and colleagues to come and reflect on the lives of those who have made the ultimate sacrifice.
There is a sense of sorrow at this ceremony, but mixed with pride for what has been achieved by those with great valour, courage and selfless sacrifice.

However, families who have lost sons will find that they have gained many others through support of the family of the Royal Marines, both past and present.
Graham Rees, of the Bridgwater branch of the Royal Marines Association, helped build the memorial garden paths and set up the tree memorials. He said:
My previous unit was 40 Commando, so I have a great affinity for them. Our branch donated £250 to the fund because we veterans feel every death. When one falls in battle we all feel that loss like a family.

You can take the man out of the Marines but not the Marine out of the man, and this applies through your life.
Published 12 November 2010