Royal Marines unearth and destroy Taliban explosives
The UK's Brigade Reconnaissance Force, in partnership with Afghan forces, has seized and destroyed a tonne of homemade explosive in Helmand province, Afghanistan.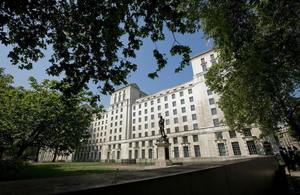 The cache was found by Afghan soldiers and Royal Marines from Task Force Helmand in Barang, to the east of the British area of operations, after intelligence suggested that insurgents were using the region to plan attacks.
Acting on information received, the Brigade Reconnaissance Force (BRF), which is part of 30 Commando Information Exploitation Group Royal Marines, launched an operation to disrupt the insurgents' hideout and foil their plans.
The operation was supported by troops from the Royal Scots Dragoon Guards and their armoured Warthog vehicles, providing transport and force protection for the BRF.
As the troops entered the area where they suspected they would find the insurgents, they came under intense fire from multiple positions. With support from the Warthog group, the men beat back the enemy with superior firepower from precision munitions and snipers.
When the gun battle subsided, the BRF moved forward to where the insurgents had been firing from. There they discovered what it was the enemy had been trying so desperately to protect; laid out on the ground like drying cement was a grey slab of material which the BRF immediately recognised as homemade explosive (HME).
HME is the main component of IEDs, which injure and kill ISAF and Afghan troops, as well as innocent civilians.
Sergeant Dean Smith, from 24 Commando Engineer Regiment, is one of the British Army engineers attached to the BRF:
This is one of the biggest single finds of HME I've ever come across," he said. "If you can imagine how much damage a 500-pound [227kg] bomb could do - there was enough here to make three of those. We estimate that it would probably have been used in smaller quantities though, to make up to 150 IEDs. No wonder the insurgents were not keen on us stumbling across it - the loss of it will be a major blow for them.
Once the engineers had carried out analysis of the material and recorded the details of the find, the decision was taken to destroy the whole lot, to prevent it from being exploited by insurgents in the future.
Sergeant Smith and his team set up a controlled explosion to blow up the HME without causing any other damage. The detonation left a sizeable crater in the ground - a sombre reminder of how lethal it could have been if used against a convoy, foot patrol or building.
Published 19 July 2011