Royal Marines train in Californian desert
For the past week, Royal Marines from 40 Commando have been training at a US Marine Corps facility in the searing heat of the Californian desert.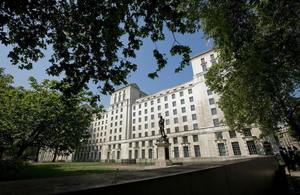 The Taunton-based unit has been honing its fighting skills on Exercise Black Alligator at the live firing rifle and artillery ranges at the US Marine Corps Air Ground Combat Centre, near the town of 29 Palms, California - deep in the Mojave Desert.
The facilities at the US base allow 40 Commando to fire all the weapons in their arsenal and offer desert training opportunities not available in the UK.
However, the desert training area offers a few extra opportunities - or perhaps challenges - also not available in the UK; it is home to a number of rare desert species.
Before beginning training, the Royal Marines received a lecture on protecting the fauna in the area, including the Sidewinder rattlesnake, the coyote, and the rare Mojave Desert tortoise.
With daytime temperatures exceeding 40 degrees Celsius, keeping cool and hydrated is of the utmost importance. A typical 'section attack' can see a Marine run and crawl through desert for 15 minutes with 40lbs (18kg) of equipment. The combination of extreme physical activity and extreme heat takes its toll.
Unlike the Mojave Desert tortoise, which can go without a drink for months by circulating recycled water around its body, the 560 Marines of 40 Commando drink 4,800 litres of water in addition to 1,200 litres of Gatorade every day. This is kept cool with 100 litres of ice.
While in California, 40 Commando are conducting joint training with 1st Battalion, 7th Regiment of the US Marine Corps. During last year's deployment to Afghanistan, 40 Commando worked closely with other units from the 7th Regiment.
The deployment comes at the end of a busy period for 40 Commando.
After returning from Afghanistan last year, the unit was on the Cougar deployment. The training at the US Marine Corps Air Ground Combat Centre is a chance for the unit to practise fighting in formations up to company size.
A member of 40 Commando said:
We are extremely lucky to be training in these stunning surroundings, using first-class facilities made available to us by the US Marine Corps.
It has been a fantastic year for 40 Commando. The unit has been all round the world this year which is what people join the Corps for.
Published 28 September 2011