Royal Marines teach Afghan colleagues rugby
Marines from 45 Commando are working alongside soldiers from the Afghan National Army (ANA) to provide security in the Nad 'Ali (South) area…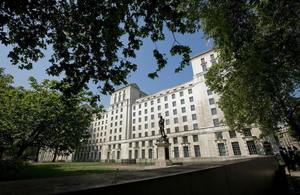 Marines from 45 Commando are working alongside soldiers from the Afghan National Army (ANA) to provide security in the Nad 'Ali (South) area of Helmand province. The Marines and the Afghan soldiers share Forward Operating Base (FOB) Shawqat from where they carry out patrols together and meet with the local people living nearby.
Captain Stuart Maccrimmon, the Adjutant of 45 Commando, said:
We work really long days, often in the blazing sun, so it can be really tiring and quite stressful. On the rare occasions we have a bit of spare time, the lads like to have a kick about or throw the ball around, but we noticed the Afghans were a bit reluctant to join in - think they were just confused about the rules.
So, Captain Maccrimmon and some of the Marines decided to train up the Afghans so they could take part. There was no shortage of volunteers from the ANA and over the last few weeks the soldiers have been getting to grips with the basics of passing, line-outs and scrums.
To make things a bit more interesting Captain Maccrimmon and his team organised a match between the Marines and the Afghan soldiers at FOB Shawqat.
Captain Maccrimmon says it got quite competitive:
The performance of the Afghans impressed us all, especially as they had never played or even watched rugby before. At first, we thought we'd better go easy on them, but had to change that tactic when we realised how good they were!
Despite all their coaching and determination, the ANA team didn't manage to win the match. However, they have challenged the Marines to a game of cricket to try and even the score.
The shirts worn by the Royal Marines and the Afghan soldiers will be auctioned back in the UK to raise money for military charities.
Published 28 April 2011