Royal Marines take the baton from the Royal Irish in Nad 'Ali
Royal Marines from 45 Commando are settling into camp in Afghanistan at the start of their six-month tour after taking over the reins in Nad 'Ali (South) from 1st Battalion The Royal Irish Regiment who have been providing security and laying the groundwork for future transition over the last six months.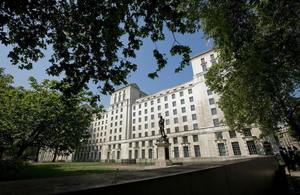 The unit, which has deployed as part of 3 Commando Brigade on Operation HERRICK 14, has now assumed responsibility for Combined Force Nad 'Ali (South), which they will command until September 2011.
A ceremony to mark the transfer of authority from 1st Battalion The Royal Irish Regiment (1 R IRISH), who have completed their tour of duty, took place at Forward Operating Base (FOB) Shawqat over the weekend.
During the service, the 1 R IRISH flag was lowered and the colours of 45 Commando were raised as the Commanding Officer of 1 R IRISH, Lieutenant Colonel Colin Weir, formally handed over to the Commanding Officer of 45 Commando, Lieutenant Colonel Oliver Lee.
Lt Col Lee said his men are ready for the task ahead, adding:
Throughout the build-up to our deployment our training has been superb and everyone is extremely well-prepared.

This has been enhanced further by an excellent week of final acclimatisation in Afghanistan.
The night before the handover, ISAF forces hosted a dinner at FOB Shawqat for members of the local Afghan National Army and Afghan National Police and the District Governor of Nad 'Ali (South), Habibullah Khan, who supplied the traditional Afghan food that was eaten.
During the meal, the District Governor spoke about the recent improvements to security and praised the contribution and sacrifice made by the 1 R IRISH Battle Group as well as by ISAF and Afghan forces, and he also welcomed 45 Commando to Nad 'Ali (South).
Lt Col Lee knows it is important to get to know the local people in order to succeed.
He continued:
This exposure has left me even more strongly of the view that this is an area of great progress and presents a real opportunity for 45 Commando to make a difference for the better.

Our predecessors have done a first class job, provided us with a tight handover, and therefore set us up for success. The rest is up to us and I know that we are equal to the challenge.
Published 5 April 2011