Royal Marines return from injury to the front line
Marine Mark Hendry from X-ray Company was badly wounded when his patrol was ambushed in Sangin during Operation HERRICK 9, an experience he …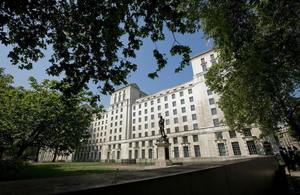 Marine Mark Hendry from X-ray Company was badly wounded when his patrol was ambushed in Sangin during Operation HERRICK 9, an experience he says he'll never forget:
I was point man on a routine patrol and as we were moving along we knew that something was not right as all the locals started leaving the area. We immediately started pulling out but it was too late. The insurgents opened fire and I was hit in the leg.
The bullet went into his thigh and exited through his lower leg. Immediately, the medical drills his colleagues had trained for time and time again were put into action. They administered first aid and called in a Medical Emergency Response Team (MERT) to transport Marine Hendry to Camp Bastion:
I just remember that it all happened so fast. The medical care was brilliant and after a few days I was back in the UK being treated in hospital in Birmingham.
Marine Hendry underwent two operations in Birmingham to repair the damage the bullet had caused to the muscles and bones in his leg. After two courses of physiotherapy at Headley Court, Marine Hendry returned to 45 Commando and joined Harden Troop, the unit's rehabilitation troop, where injured marines are given support to rebuild their strength and fitness.
Just six months later Marine Hendry was fit enough to rejoin X-ray Company and start pre-deployment training for his return to Afghanistan. He deployed in April and is currently serving in Sayedabad in Nad 'Ali (South).
Marine Hendry says he can't believe the change from the last time he was in Helmand:
Things are completely different now, we all feel much safer and the atmosphere is nothing like it was that day I was hit two-and-a-half years ago. You can see the progress happening here every day. Since I arrived in Sayedabad I have seen the local bazaar reopen and turn into a popular and thriving marketplace. The local people are onside and really friendly; this makes the job much more rewarding.
Marine Hendry joined the Royal Marines in 2007, following his father Alistair into the Corps. His sister Anita, who serves in the Royal Army Medical Corps, knows all too well how hard Marine Hendry has worked to get back to work. The 23-year-old is currently preparing for her third tour of Afghanistan, which will begin in October, as Marine Hendry prepares to return home.
Marine Hendry isn't the only marine in 45 Commando showing such determination and commitment to get back to the front line.
Just weeks after deploying to Helmand earlier this year, Marine David Coleman was out on patrol with Yankee Company, 45 Commando, when they came under attack from insurgents. The marines had been walking through a village when suddenly, out of nowhere, a grenade landed just three metres away, blowing 19-year-old Marine Coleman off his feet:
I remember hearing a noise that sounded like a 'ping' and the next thing I knew I was lying on the floor. The lads were great - they immediately made sure it was safe and there weren't any more grenades and then they started first aid on me.
Just minutes after the explosion, Marine Coleman was on board a MERT helicopter. He was airlifted to the hospital at Camp Bastion, where he was immediately prepped for surgery.
Marine Coleman had five operations to remove shrapnel from his neck, thighs, shins and arms. Despite his injuries, Marine Coleman was determined to recover and get back to work with the lads of Yankee Company.
After spending a few days on the ward allowing his wounds to heal, Marine Coleman began an intensive physiotherapy programme to get him back to fitness. His determination and the support of the medical team meant that only a few weeks later he was able to pass the necessary tests to return to duty:
It was great to get back to the lads although I had to return with a few crates of soft drinks from the NAAFI [Navy, Army and Air Force Institutes] in Bastion to make up for my absence and of course to say thank you.

The medical care I received from the medics at the Role 3 hospital was first class and all the support I got from the unit and my family made me all the more determined to get back to the lads.

They all seemed quite pleased to see me but this was probably partly because it meant I could help them out with their duties.
Published 4 July 2011