Royal Marines return from Afghanistan to heroes' welcome
Royal Marines from M Company of 42 Commando have returned home to a rapturous welcome from friends and family after a successful combat deployment in Afghanistan.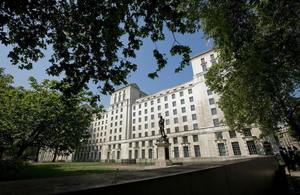 The 100 commandos from Bickleigh Barracks, Plymouth, were greeted by roughly twice as many cheering loved ones at Exeter Airport last night, Tuesday 25 October 2011. Waving banners and balloons, excited children wearing t-shirts bearing welcome messages waited expectantly for their parents. The event was also marked by informal tributes to those comrades who died on the front line.
For the past six months, 42 Commando Royal Marines has been serving on the front line in Afghanistan as part of 3 Commando Brigade, on a demanding tour which has recorded progress in stabilising the southern Afghan province of Helmand.
M Company's role was to build relationships with Afghans and help establish development including two schools and clinics for women and children. The Company also trained up members of the Afghan National Police and handed over two patrol bases to their control.
Lieutenant Tom Lucy, who commands a troop of Royal Marines who manned checkpoints, was welcomed by his mother, Patricia. Lt Lucy said:
I am amazed at the huge welcome here. I was asleep on the plane and suddenly there is this noisy crowd shouting and cheering us back; it is really moving. But we're also remembering those who did not come back, and their families.
I am looking forward to hot showers whenever I want, and a different diet, and a beer or two with my mates. I'm planning a lads' holiday away now when we're on leave.
Lt Lucy's mother, Patricia, said:
It is wonderful to see Tom looking so fit and well. It is his first operational tour, so my first homecoming event and a really happy occasion.
Marine Matthew Burnham was met by his wife, Michelle. She said:
I am really happy to see him again, especially safe and sound. He looks so well.
Mne Burnham, who is a signaller, said:
I can't believe so many people have come to see us come back. It's so good to see Michelle here. I am now looking forward to the luxuries of beer and sleep. We achieved a lot out there in Afghanistan. So it was all worthwhile. But there is nothing as good as being back home.
Marine Luke Cockles, an anti-tank/heavy weapons specialist, was hugged by his girlfriend, Zena. He said:
I have been waiting for this moment for a long time. It's a real boost to see so many people here so happy to see us. It shows what support we had back home.
Marine Ben Turner was among the first five troops in the airport arrivals hall and was met by a wall of sound and flashing cameras. He was swamped by his family, including his grandmother, mother, stepdad and stepbrother and sister. He said:
I am made up by seeing all the family and so many people here. It's an amazing thing.
His mother, Debbie Partridge, said:
It's so fantastic to see Ben again. He is safe and sound, which is the main thing. We have all missed him. We'll all have a great time celebrating him being back.
The Commanding Oficer of 42 Commando Royal Marines, Lieutenant Colonel Ewen Murchison, paid tribute to his men, both those who have returned from Afghanistan and those who gave their lives in combat:
It is fantastic for the troops to be back home to such a great welcome," he said. "But first and foremost our thoughts and prayers are with the family and friends of our seven brothers-in-arms who have tragically been killed during the tour: Lieutenant Ollie Augustin, Sergeant Barry Weston, Lance Corporal Martin Gill and Marines Sam Alexander, Nigel Mead, James Wright and David Fairbrother.

Their deaths are felt deeply across [42] Commando and [are] a sad reminder of the daily dangers we faced. They will be sorely missed, but their memory lives. Despite these tragic losses, and injuries to others, the unit pressed on, resolutely focussed on providing security for the people of Afghanistan.
The majority of 42 Commando was deployed to northern Nad 'Ali district, in Helmand province. This was the first operational deployment for many, but a return trip for most:
Our main role was to accelerate the development of the Afghan Security Forces, empowering the police and the army so that in the near future they can take sole responsibility for providing security for the people of Helmand," explained Lt Col Murchison.

Many of our bases were shared with our Afghan colleagues, and we conducted daily planning and patrolling together. We mentored them, encouraged them to increasingly take the lead and handed over a quarter of the checkpoints in our area to them; a clear indication of their increased capability and confidence.
Other engagements included 140 meetings with Afghans to understand causes of instability and bring together the traditional powerbrokers and village elders with government officials. The unit worked closely with the Afghan line ministries to improve the basic quality of life for the residents of Nad 'Ali, and helped open a new basic health clinic in Showal and a new school in the village of Naquilabad.
Considerable progress was made in the area of Loy Mandeh. Although very tough initially, the unit's actions brought security and development to an area long starved of basic requirements, due to the dominance of the Taliban. Areas of the town were completely abandoned due to the threat from improvised explosive devices (IEDs) and intimidation. Many displaced families moved back into the area and work started to rebuild the once thriving bazaar.
42 Commando endured 238 IED incidents during five months, averaging one IED every 16 hours, with 75 per cent of IED incidents classed as 'finds', which were rendered. Including caches the marines safely removed 300 IEDs.
Lt Col Murchison praised the support from the UK and invited spectators to the Plymouth homecoming parade, which will take place on 11 November:
As a unit we were extremely grateful for the steadfast support and solidarity shown to us by everyone back home. It was a source of huge encouragement, particularly during the many dark days we had. We look ahead now to some well earned rest and the chance to spend some time with our families and friends
42 Commando returns to work in the New Year for mountain and arctic training in Scotland and Norway and amphibious training with the United States Marine Corps in America.
Published 26 October 2011