Royal Marines rescue fisherman
A team of Royal Marines from 9 Assault Squadron, based on board the Royal Navy helicopter commando carrier HMS Ocean, have helped save an American fisherman whose boat was on the brink of sinking.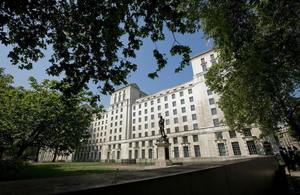 The eagle-eyed Marines spotted the boat while conducting a routine patrol in their landing craft during Exercise Kearsarge, which is being conducted off the east coast of the United States.
Marine Chris Reid took part in the rescue. He said:
We were on a routine patrol when we noticed a man on board a fishing vessel waving his arms at us. That is the international distress call, so we got to him as quickly as we could.

The boat was taking on a lot of water and it had damaged his electrics which effectively meant he was left stranded. We took the decision to tow him back to the marina, which was a mile away, so he wouldn't come to any harm or lose his boat.

The boat wasn't far off going under. We were just glad that we could be there to help and it was a bit of a highlight to our day. He was really pleased that we were able to help him as he had been stuck there for almost three hours.
HMS Ocean's Commanding Officer, Captain Keith Blount, said:
I am thrilled that our Marines did such a professional job in rescuing this sailor in distress. However, I am not surprised - this professionalism is typical of the Royal Marines and search and rescue is but one skill they have on tap.

Pleasingly, with the incident over, they calmly returned to their role within Exercise Kearsarge without missing a beat.
HMS Ocean is in the region conducting Exercise Kearsarge, as part of the UK Amphibious Task Group's Auriga Deployment.
Kearsarge is a joint US/UK exercise taking place in the vicinity of Camp Lejeune, in North Carolina, in support of the deployment training package for the United States Navy's Amphibious Ready Group.
The UK Task Group, led by HMS Ark Royal, will concentrate on developing working practices between the UK's amphibious and carrier strike capabilities.
Published 20 July 2010