Royal Marines ready for Afghanistan deployment
650 men of 40 Commando Royal Marines (40 Cdo) have honed their skills with a final exercise on Salisbury Plain ahead of their deployment to Afghanistan with 4th Mechanized Brigade in October.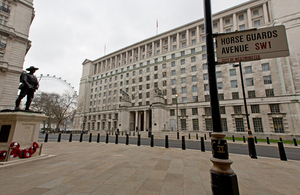 40 Cdo will be based in Nahr-e Saraj, one of the biggest districts in central Helmand, supporting and mentoring the Afghan National Security Forces in preparation for transition in 2014 rather than fighting insurgents.
Commanding Officer Lieutenant Colonel Matt Jackson said:
Nahr-e Saraj has the full spectrum of everything from very peaceful, very quiet villages to very contested areas where neither the insurgency or the Government of Afghanistan has the lead.

It is all about better security. If you deliver better security it brings lots of others things.

There is more optimism among the Afghans because they're less worried about security.
To prepare for getting out on the ground, 40 Cdo have just completed Exercise Pashtun Dawn on Salisbury Plain; the final rehearsal for the deployment.
Ahead of HERRICK 17, Marines from 40 Cdo said they were fully prepared and ready to go.
Lieutenant Loadman said:
The quality of the training and resources has been fantastic. Training started at the beginning of the year with individual skills and has ended here with collective training, with the whole unit acting as they would be in Afghanistan. Having Afghan role-players has been a massive help.
Everyone is ready and know the job that they need to do.
Marine Mark Sutherland, 23, said:
This is my first tour and I am really looking forward to it. It has been a long time coming. I just want to get out there and do something.
For Marine Colin Amyot, 29, this will be his second tour after going on HERRICK 9 in 2008/09. He said:
I am expecting this to be not as bad but we are still fully prepared if things do happen.

We know what to expect from the Afghan people. I know it has developed quite a bit since then with the Afghan National Security Forces improving a lot and taking more of a leading role.
Lance Corporal Tom Hunt, aged 26, is also going on his second tour:
I would go tomorrow if I could but am not leaving until October," he said. "Once you have had the experience of it you are ready for it and more mentally prepared.
40 Cdo are deploying as part of 4th Mechanized Brigade on Operation HERRICK 17.
This report has been reproduced with the kind permission of the Exeter Express and Echo.
Published 30 August 2012