Royal Marines' newest unit on parade
The Royal Marines' newest commando unit was officially named at a ceremony held late last year which was attended by the professional head of the Royal Marines.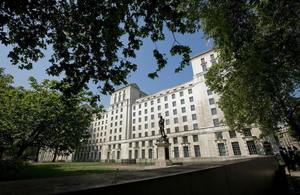 Major General Buster Howes, the Commandant General Royal Marines, took the salute as the new yellow and blue standard of 30 Commando IX (Information Exploitation) Group was raised and blessed at the inauguration parade at Stonehouse Barracks in Plymouth.
The parade of more than 400 Royal Marines marked the ceremonial public recognition of the name change of the UK Landing Force Command Support Group (UKLF CSG), which existed from 2001 to 2010, to the current new 30 Commando, which has existed in the past as a unit devised by James Bond author Ian Fleming under the motto 'Attain by Surprise'.
Under its original guise, UKLF CSG, the unit has been deployed on operations in Iraq (2003) and Afghanistan (2006, 2008/2009); however, the name UKLF CSG was no longer deemed appropriate to reflect its role.
Major General Howes praised the covert battlefield intelligence-gathering unit and said the name was also a significant honour in memory of those in the unit who have died in combat, adding:
It is with great pleasure to be here today at the remustering of 30 Commando which reawakens the unit's fighting name as a band of brothers.
The Commanding Officer of 30 Commando IX Group, Lieutenant Colonel Matt Stovin-Bradford, said the special day was a proud one for him and was key in generating cohesion by giving it a similar style name to other commando units:
The men under my command in 30 Commando Information Exploitation Group Royal Marines, colloquially known as 30 Commando, are in no doubt that they make valuable contributions in support of amphibious and land operations.

However, a change of name hardens an already galvanised group of specialists whose principal function on operations is to develop our force's understanding of the environment and adversaries through analysis and reconnaissance, which in turn is used to inform decision-makers at every level.

The role we perform can be traced back to the Second World War, a lineage of which we are immensely proud and is now reflected in our new title.
He said that, although visual intelligence is still carried out today as it was in the past, current technology (such as satellite monitoring) enabled the unit's surveillance to happen at distance, while still providing commanders with the precise information on enemy positions and activity required to prepare a suitable reaction with confidence.
Since the Second World War, 30 Commando has undergone a number of name changes. The name has historical significance - 30 Commando IX Group can trace its history back to 1942 and MI6 Officer Ian Fleming.
Fleming's concept, based on similar units used by the Germans, was for a unit comprising information-gathering teams, operating in front or with the main body of troops.
Their role was to collect information from enemy headquarters and installations using covert infiltration into enemy territory by land, sea or air.
30 Commando Assault Unit (as it was named) was formed, and during the Second World War operated in North Africa, the Greek Islands, Norway, Pantelleria in Sicily, Corsica and North West Europe.
30 Commando Assault Unit was also involved in the D-Day landings, tasked with capturing intelligence on enemy weapons, submarines and mines, and captured an enemy radar station.
Technology has changed since the Second World War, but the role of 30 Commando IX Group is essentially the same.
30 Commando IX Group today now employs electronic warfare, intelligence, manned and unmanned aerial surveillance, information and psychological operations and communications to provide the commander of 3 Commando Brigade with the information that he needs in order to make decisions in any operation.
On the ground in Afghanistan this means 30 Commando IX Group locate the enemy, understand his complex tribal/feudal society and enable troops to take action against him.
Published 6 January 2011