Royal Marines help blind man up Ben Nevis
Scott Cunningham has become the first blind man to climb Britain's highest mountain, with his guide dog Travis, and the Faslane Marines were…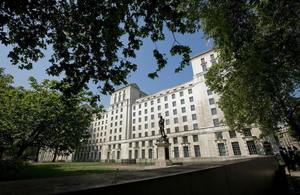 Scott Cunningham has become the first blind man to climb Britain's highest mountain, with his guide dog Travis, and the Faslane Marines were with him every step of the way.
Colour Sergeant Bill Rodgers, from the Fleet Protection Group's S Squadron, explained:
Fleet Protection Group got involved around four years ago when one of Scott's friends, who is an ex-Royal Marine, asked if we could support him on the West Highland Way.

Our Commanding Officer and Regimental Sergeant Major were happy for the unit to help and since then we have supported Scott in all his charity work and helped him raise £100,000 for Guide Dogs for the Blind.

The Ben Nevis climb took seven hours to complete - four hours up and three hours to get back down.
Because of the level of support received from the Royal Marines last year, the Travis Trek charity is now collecting money jointly, with half going to Guide Dogs for the Blind and half to the Royal Marines Charitable Trust Fund:
So far we have managed to raise £10,000 for each charity," continued Colour Sergeant Rodgers. "We hope to collect over £25,000 from this year's Travis Trek Gala Ball, an event we will be holding on September 24 at the Crowne Plaza Glasgow.
A host of Scottish celebrities have already signed up for the Ball, including Ally McCoist and the Glasgow Rangers management team. Some of the Rangers' first team players, Sky Sports' Jim White and golfer Peter Lawrie will also be attending.
Visit the TravisTrek website at Related Links for more information.
Published 17 August 2011