Royal Marines get essential Medical & Dental facilities
The Defence Infrastructure Organisation (DIO) has delivered new Medical & Dental facilities for 42 Commando Royal Marines, one of three elite battalion-sized units which make up 3 Commando Brigade.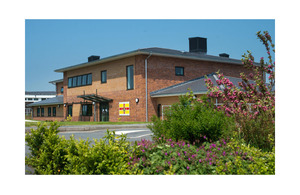 Working with regional industry partner Debut Services (South West) Limited, DIO has delivered a new centre at Bickleigh, in Plymouth, that will provide modern medical and dental care facilities and essential services for the treatment and rehabilitation of injured marines returning from overseas operations, in a single, contemporary building.
The new building provides enhanced clinical care for patients providing a full range of treatment and preventive medicine, including a physiotherapy suite. It was opened in an official ceremony at 42 Commando Royal Marines in Bickleigh, when Commander Carol Betteridge and Royal Marine William Cassidy Little unveiled a commemorative plaque.
Surgeon Lieutenant John Glennie, Medical Officer at 42 Cdo RM said :
The completion of a new sickbay build will now allow all healthcare provision to Royal Marines at 42 Cdo, to be delivered under one roof. Expansion of the previously existing facilities into a spacious and modern building will provide us with the capability to not only maintain, but also restore our patients to full health and allow them to function in their specialised role as Royal Marines.
Facilities above and beyond those of routine medical check-ups include, audiometric testing, physiotherapy, vaccination clinics and podiatry, and all of these can now be provided in a facility in keeping with the high standard of medical care demanded for our troops.
The new high-tech facility incorporates many sustainable technologies with the design including: air source heat pump; solar heating panels; brise soliel solar shading; sun tubes; daylight dimming controls - to maximise the benefits from the sun tubes; high thermal efficiency insulation materials, which enabled the building to achieve higher U-values than the building regulations require and sensor controlled lighting to reduce energy consumption; this enabled a DREAM score of 76 to be achieved, therefore easily achieving a DREAM excellent rating, reducing future energy consumption and carbon emissions.
Dave Delicate the Navy Command Infrastructure Capability Manager said:
The new Medical and Dental centre is an excellent example of what can be achieved through teamwork and appropriate stakeholder engagement. This project has benefitted from a number of lessons learnt from previous new build Medical and dental centres, and will provide the Royal Marines at 42 Commando in Bickleigh Barracks with a facility that they so richly deserve.
The project was handed over on time, with zero defects and was also delivered with an excellent Health & Safety record. This was also formally acknowledged by the independent Considerate Constructors Scheme with the project achieving an overall score of 37.5, which is recognised as performance beyond compliance.
Graham Martin, DIO Project Manager commented:
The quality of the finished building is first-class and we are proud to have been associated with the delivery of the project. The medical and dental centre at RM Bickleigh is virtually a duplicate building to the successful facility built at Norton Manor Camp for 40 CDO, completed in 2009.
Feedback from the medical staff at NMC was very positive and the lessons learned enabled the project team to reap the benefits of Prime Contracting by using the same design and, where possible, the same delivery team for the new facilities at Bickleigh. This initiative meant the pre-contract period was reduced and end users could enjoy their facility earlier than would have been the case under other procurement methods.
Paul Nix, Debut and Lend Lease Core Works Director, added:
This is the latest of many successful projects delivered by DIO and Debut for the Royal Marines. We are extremely proud of the team's achievements and delighted that this format has been taken forward by the MOD as the template for future Medical and Dental Centres, which will ensure the best medical and dental facilities possible are provided for our armed forces personnel.
Published 9 July 2012