Royal Marines get eco-friendly new homes
The semi-detached, four-bedroom family houses will support the forecast increase in numbers of 24 Commando Engineer Regiment (24 CER) to Chivenor…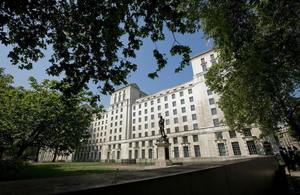 The semi-detached, four-bedroom family houses will support the forecast increase in numbers of 24 Commando Engineer Regiment (24 CER) to Chivenor in the near future. They will help the families who live in them to save money, reduce their carbon footprint and enjoy a more comfortable home.
Working with industry partner Debut Services, DE has provided properties with a highly 'green' specification. This means they meet exacting eco-standards - Level 4 on the national Code for Sustainable Homes.
24 CER, based at RMB Chivenor, is a fighting force of Commando trained Royal Engineers, optimised as an amphibious formation with the unique ability to rapidly deploy around the world in support of 3 Commando Brigade Royal Marines.
Lt Col Nick Bentham-Green RM, Royal Navy Estates Organisation Requirements Manager, stated:
This project has delivered 10 Service homes, not only of superb quality, but also homes that meet Code 4 Level of Sustainability. I am very proud to have been working with such very professional and committed group of people who have seen such a worthwhile project to successful completion.
With a hybrid timber frame structure, brick and timber cladding and a concrete tile roof, the new properties are very well insulated. They have been designed to optimise energy efficiency and incorporate various sustainable features such as a solar panel water heating system linked to a low energy gas boiler.
Water conservation measures include the provision of water buttes for rainwater collection, meters and flow restrictors.
Susan Thompson, Defence Estates' Project Manager, commented:
We had a very tight timescale within which to deliver this project and although it was a relatively small project - 10 homes in total - this was not an easy project to deliver.

We had to ensure we met the requirements of government legislation, MOD specifications and the aspirations of North Devon District Council, and at times these were at odds with each other, making the process quite complicated.
The outside of the houses was designed to withstand the windy location and exceed Building Regulations requirements for air-tightness and thermal insulation. During the construction phase pre-fabrication of some elements was carried out off-site which reduced waste and facilitated more rapid construction.
The project also achieved Secure by Design accreditation, which supports the principles of crime reduction through design. It encourages the adoption of crime prevention measures to help reduce both crime, and the fear of crime.
Paul Nix, Debut Services' Core Works Director, said:
Debut Services is very proud to have delivered this project on behalf of Defence Estates. It was particularly challenging for our project team to ensure that our design met all of the various housing codes and requirements.

We've achieved value for money for client and customer - delivering very high quality homes we are confident Service families at Chivenor will be delighted with.
Published 10 June 2010