Royal Marines compose tribute to Wootton Bassett
The new concert march is called simply 'Wootton Bassett' after the town where repatriation convoys carrying UK Service personnel who have died…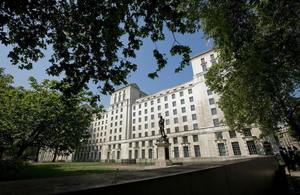 The new concert march is called simply 'Wootton Bassett' after the town where repatriation convoys carrying UK Service personnel who have died on operations take place.
Hundreds of townspeople turn out in tribute as the convoys travel through the town from the nearby RAF Lyneham base, where the fallen servicemen and women are flown into, to the John Radcliffe Hospital in Oxford.
Initially a small gesture by residents, led by the local branch of the Royal British Legion, the poignant and emotional occasions have grown in significance and now act as a focal point for the entire nation.
'Wootton Bassett' has been composed by Major Pete Curtis. The second part of the five-minute march begins by recreating the sound of a C-17 Globemaster aircraft as it flies over the town into RAF Lyneham. The town's church bells can also be heard.
The world premiere of the full piece will take place at the South Coast Proms, which feature the Massed Bands of Her Majesty's Royal Marines, at Whale Island, Portsmouth, on 25 and 26 June 2010.
But a delegation from Wootton Bassett, including town mayor Councillor Mary Champion, heard a brief excerpt at a ceremony in Portsmouth yesterday, Monday 21 June 2010.
Councillor Champion, who was presented with a framed copy of the original music, said:
It's amazing to have seen the reaction of the people of Portsmouth and we are so grateful for having been invited.

Wootton Bassett has always been a close-knit and caring community and we have tremendous respect for the role of the Armed Forces.

To have heard the march composed in our honour is a great privilege and we will continue to do our duty to the families of those personnel who have paid the ultimate price. I am looking forward to hearing the full piece at the South Coast Proms in Portsmouth this weekend.
Major Curtis added:
The music celebrates the special relationship the town has with the British Armed Forces. The piece is also a thank-you to them for the respect shown to fallen Service personnel as they are brought back to the UK.
Published 22 June 2010