The Marines, from Charlie Company, 40 Commando Group, working in conjunction with colleagues from the Counter-IED Task Force, put in place a…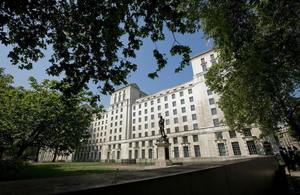 The Marines, from Charlie Company, 40 Commando Group, working in conjunction with colleagues from the Counter-IED Task Force, put in place a cordon around the suspect street to prevent locals from endangering themselves during the clearance and to limit interference from insurgents.
Lieutenant Doug Spencer, Charlie Company, 40 Commando Royal Marines (40 Cdo RM), said:
Today we're conducting an IED clearance operation. My call sign is taking arcs out to the south. We've just occupied a rooftop that has good arcs, and will remain here while the IED clearance team carry out their business.
The village of Pylae and its patrol base are on the front line of enemy troops. Patrols from 40 Commando have identified several IEDs in the village and surrounding area over recent weeks.
Operations have been mounted to remove the devices but often the Taliban moves them under the cover of darkness to new locations.
On this occasion, a residential street where several IEDs had been confirmed was targeted by Combined Force Sangin.
The road had been out of bounds to ISAF troops and locals until the operation went in.
8 Troop, 40 Cdo RM, took up positions on the roof of a compound close to the road, allowing them to have arcs of view over the area.
Using a range of small arms weapons, including the recently-introduced Sharpshooter rifle, the Marines created an observation post so they could speak to civilians to warn them of the danger as well as monitoring possible insurgent positions.
Marine Brandon Hubbs, 40 Cdo RM, said:
This morning we've got two troops to come down from FOB [Forward Operating Base] Jackson to our position. We've moved out with the ATO [Ammunition Technical Officer] to clear an IED.

Our multiple has come into this compound to create a southernmost cordon from the FLET [Forward Line of Enemy Troops] which is about 80 metres to my rear.
Up on the roof here we have a few lads who are covering down, we've got linkmen and the medic as a CASEVAC [Casualty Evacuation] group out behind me - and right now I'm just manning the net [radio] and relaying any messages, whilst still providing overwatch to our rear.
Lieutenant Spencer continued:
We all have a bit of rudimentary Pashtu which we have been shouting at the locals as they come towards us.

In addition we've got our 'terp' [interpreter] who also shouts. Some have been coming past on motorbikes quite fast and ignoring our shouts, so we've had to fire mini-flares into the air above the motorbikes as they come by - that usually stops them.
During the course of the operation, which lasted several hours, the Royal Marines and Army bomb disposal experts were fired upon twice, with shots landing a few metres from the ATO.
Despite this, bomb disposal experts moved forward to deal with three suspected devices, which were confirmed along the walled road.
To get to the devices safely, the disposal team had to manoeuvre over several rooftops. In addition, Royal Marines from 8 Troop created a smoke screen to let the ATO move forward under cover.
Lieutenant Spencer said:
After the IED team went forward to the first device, they believed there to be a second. However, it was felt there was quite a significant threat.

So it was necessary for us in the cordon to throw smoke and provide them with a bit of cover while they went forward. There they found another device and placed a charge on it to clear it.
Published 2 July 2010